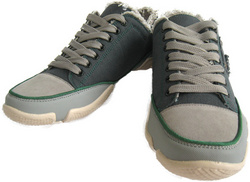 Groobs shoes was founded with giving as its starting point and not as an afterthought. With the purchase of a simple pair of shoes the customer can support the cause they are passionate about and at the same time give a new pair to someone in need
Houston, Texas (PRWEB) June 30, 2010
Giving back and choosing a charity are all rolled up into one purchase with the launch of Groobs shoes. Groobs, a charitable for profit shoe company, gives the customer the choice of any charity to send 50% of the proceeds as well as giving a new pair of shoes with every pair sold to a needy individual with the help of their giving partner Soles4Souls.
Groobs, the acronym for Giving Relief Out Of Buying Shoes, is on a mission to change the way business is conducted. For profit, choice and charity can coexist. Groobs shoes enables the customer to give back to a charitable organization they are passionate about as well as giving a new pair of shoes to someone in need simply by purchasing a pair of shoes for themselves. Profit with a purpose.
"Groobs shoes was founded with giving as its starting point and not as an afterthought. With the purchase of a simple pair of shoes the customer can support the cause they are passionate about and at the same time give a new pair to someone in need," "It's a win win for everyone," says Jason Fry, Founder of Groobs shoes.
"Maybe Project Mosquito Net is a charity the customer is passionate about and they give to them all year round. With Groobs shoes a customer can give again through the purchase of a pair of Groobs shoes." Fry says. "Also a new pair of shoes will be given to someone in need with every pair sold."
For more information please call 832-721-5480 or visit their website Groobs.com
# # #