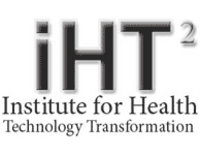 Meaningful Use – Where do we go from here?
New York, NY (Vocus) June 29, 2010
The Institute for Health Technology Transformation announced today the speakers and moderator for a panel entitled "Meaningful Use – Where do we go from here?" at the Institute's Summer Health IT Summit focused on "Adoption, Implementation, and Meaningful Use," taking place July 27-28 in Denver, Colorado at the Hyatt Regency Denver Tech Center.
Their presentation entitled, "Meaningful Use – Where do we go from here?" will take a bold look at the state of the healthcare system at present and examine the critical next steps for moving forward as meaningful users of Health IT.
The panel will be moderated by Jessica Grosset, Chair, IT Applications Department, May Clinic, and speaking will be Mark Levine, MD, Chief Medical Officer, Denver Region, The Centers for Medicare & Medicaid Services; Evon Holladay, VP Business Intelligence, Catholic Health Initiatives; Andrew Steele, MD, Director, Medical Informatics, Denver Health; Dana Moore, SVP & Chief Information Officer, Centura Health; Gary Kolbeck, Healthcare General Manager, LodgeNet Interactive Corporation; and Swati Abbott, President, MEDai.
"Meaningful Use is a foundational component of where Healthcare IT (HIT) will be in five, ten and even many decades from now," said Evon Holliday, VP Business Intelligence, Catholic Health Initiatives. "It sets the stage for using information, and hopefully sharing information across microcosms of care. Once this is in place, healthcare can start to define interoperability at the semantic layer....the data layer. Like uniform billing code did 20 years ago. Once this can happen, healthcare can harness the full power of electronic information and start to manage populations by having the data to understand populations. These populations may be geographic (such as the Accountable Care Organization model), but they will also be non-geographic. This will be valuable for researchers, clinicians and consumers to find the populations they belong to based on phenotype and even genotype."
The Summer Health IT Summit is centered around "Adoption, Implementation, and Meaningful Use," and brings together over 175 CIO's, VP's, and Directors of IT from hospitals, health systems, and larger physician practices. The Summer Health IT Summit strives to drive improvement and the effective use of technology throughout the continuum of care by bringing together thought leaders and innovators from all stakeholders in the health IT landscape for two full days of networking, learning, workshops, keynote presentations and timely panel discussions addressing Health Information Technology. The Summit will address current challenges and opportunities associated with: Meaningful Use, Health Information Exchange, Electronic Medical Records, Security & Privacy, and other timely issues.
Sponsors and Partners for the Summer Health IT Summit include Advanced Systems Group, Citrix, Covisint, DSS, Inc., InteliChart, Thomson Reuters, LodgeNet Healthcare, MEDai, MEDSEEK, GeaCom, Inc., Stratus Technologies, HIMSS Colorado Chapter, WITI, Healthcare IT News, CMIO, CHSM, MarketsandMarkets, mobihealthnews, Health Management Technology, and more.
About the Institute for Health Technology Transformation
The Institute for Health Technology Transformation is the leading organization committed to bringing together private and public sector leaders fostering the growth and meaningful use of technology across the healthcare industry. Through collaborative efforts the Institute provides programs that drive innovation, educate, and provide a critical understanding of how technology applications, solutions and devices can improve the quality, safety and efficiency of healthcare.
http://www.ihealthtran.com
###