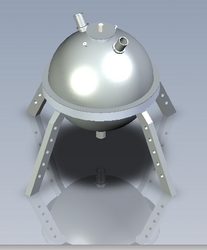 "This elegant technology represents a paradigm shift in the Medical Isotope production industry"
Las Vegas, NV (PRWEB) June 29, 2010
MiPod Nuclear Inc. ("MiPod") announced that it would proceed with the commercialization of its radical new medical isotope production technology.
MiPod is an acronym for "Medical Isotope Production on Demand".
The technology allows MiPod to produce Mo-99 (the decay parent of Tc-99m) without the use of a reactor or highly enriched uranium in regional production centers. The patent pending process utilizes depleted uranium as the target media which is irradiated by a fast neutron generator in a proprietary chamber design.
The actinides are separated from the depleted uranium matrix after irradiation using an advanced electrolytic separation technology. After removal the depleted uranium is reconstituted and reused in additional production cycles in a closed loop environmentally sustainable and highly cost effective system capable of daily delivery of production.
The compact and inexpensive system is intended for deployment in centers with populations of 1,000,000 or more. This means that for the first time the medical imaging industry will have a secure and redundant source of Tc-99m, which has been subject to supply shortages on a regular basis as the aging centralized supply chain breaks down due to reactor failures, and transportation issues. The regional production system using the MiPod technology will also alleviate the need for cross border transport of nuclear materials, both for target irradiation and for the isotopes themselves.
The low capital and operating costs means that no government subsidies are required.
As no highly enriched uranium is required the process complies with the "American Medical Isotope Production Act of 2009" which seeks to eliminate the use of highly enriched uranium in the isotope production process.
Mipod hopes to have production prototypes completed within a year, and is looking to commercial production within 18 months. Each MiPod unit is approximately 6' by 6' and will produce a minimum of 8 curies per day. Scaling is achieved by simply adding more units. The separation system is similarly scalable.
Bob Knight, the company's Chief Operating Officer commented that "The technology invented by Dr. Tsang is brilliant and ground breaking, it relies on proven technologies integrated in an elegant solution to a very real supply problem. Early estimates indicate that the entire U.S. Tc-99m demand of 2,000 curies per day can be accommodated at about 12% of the cost of building new reactors to satisfy the demand, and production costs are low enough not to require any subsidy. No change to clinical practice is anticipated for implementation."
He also noted "The system will dramatically reduce the amount of high level nuclear waste that current production systems create and will eliminate the current need for the U.S. to export highly enriched uranium targets. Its a greener technology that actually costs a lot less than the way things are currently done, and solves a big problem for the medical system. For me personally, that's a wonderful thing to be involved with, it is analogous to the change from main frame computing to desktop computing or coal fired power generation to the use of solar cells."
MiPod also confirmed it has had discussions with a number of potential financing and development partners and will continue to seek out the right financial and technical fit for commercial production.
MiPod Nuclear Inc. (http://www.mipodnuclear.com) is a private company headquartered in Las Vegas, Nevada. It's officers and directors are: Ted King, Chairman, Bob Knight COO, Dr. Francis Tsang CTO all of whom also serve as directors, Troy Wade of Las Vegas and Dr, Jean-Claude Gehret of Switzerland are independent directors.
###