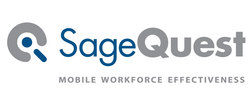 We're proud to establish SageQuest's partnership with PSE and continue to expand our unique value within the utility industry
Cleveland, Ohio (Vocus) June 29, 2010
SageQuest, LLC announces that Puget Sound Energy's (PSE) metering network services group has deployed SageQuest's GPS vehicle management solution, Mobile Control, on its fleet of service vehicles. PSE is Washington state's oldest local energy utility, serving more than one million electric customers and nearly 750,000 natural gas customers.
"Safety and efficiency were the primary factors driving our decision to choose SageQuest," said Sue Beardsley, Manager, Metering Network Services at PSE. "Our metering technicians make approximately 200,000 visits to customers' homes and businesses each year to do maintenance on their electric or natural gas meters. SageQuest's Mobile Control system provides a real-time map view of our metering technicians' locations, ensuring we are able to meet our high standards for safety and enhance business efficiencies."
SageQuest also allows PSE to leverage its previous investment in Garmin in-vehicle navigation devices. Mobile Control's integration capability with Garmin personal navigation devices opens a new line of communication between the office and metering technicians. In addition, it allows more efficient and timely communication. Using Mobile Control, PSE can transmit critical information such as service order details and directions directly to in-vehicle Garmin devices. Metering technicians, in turn, can use their Garmin devices to immediately respond.
"We're proud to establish SageQuest's partnership with PSE and continue to expand our unique value within the utility industry," said Doug Engerman, VP of Business Development for SageQuest. "We look forward to delivering the same results and personal service to PSE that we've demonstrated with other enterprise customers throughout the United States and Canada."
About SageQuest
SageQuest LLC provides proven GPS vehicle management solutions that improve the efficiency and productivity of mobile workers for utility, cable and broadband companies throughout North America. SageQuest's Mobile Control compliments workforce management tools to provide real-time insight into technician and vehicle activity, providing actionable decision-making information for dispatchers, supervisors and executives. Mobile Control is a software-as-a-service (SaaS) solution which helps customers minimize their upfront capital investment. For more information about SageQuest, visit http://www.sage-quest.com or call 888.837.7243.
###