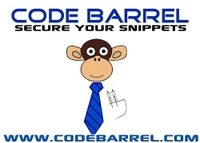 We want our users to be able to experience all the benefits of Code Barrel and recognize that the best way to do that is by offering a free version without any time limitations. ~Keir Davis, President, Xtern Software
Greensboro, NC (PRWEB) June 30, 2010
Xtern Software announced today that it is offering a free Personal version of their new Code Barrel product (http://www.codebarrel.com). This new version will allow a single user to keep up to 25 code snippets in his or her own personal, private hosted code snippet repository at no cost. As part of this new offering, they have decided to eliminate the 30-day Trial version.
"We want our users to be able to experience all the benefits of Code Barrel and recognize that the best way to do that is by offering a free version without any time limitations, " said Keir Davis, President of Xtern Software.
Code Barrel is the first private, hosted code snippet repository that supports any programming language. It offers users advanced search, tagging, and simple copy & paste functionality to easily find and reuse code snippets. The product will also track snippet revisions, supports commenting, and will email team members when a snippet has changed. Because it is hosted, all product updates are automatically provided to all users.
A free, Visual Studio plug-in for Code Barrel makes it very easy to incorporate it into a programmer's workflow. An Eclipse plug-in is currently under development and will be available soon.
The Professional version pricing starts at $9.95 per month. To sign up for the free Personal version, go http://signup.codebarrel.com.
Xtern Software Inc., based in Greensboro, NC, was founded in 2002 by Keir Davis. In addition to Code Barrel, Xtern Software provides custom development solutions for small businesses to large corporations.
###