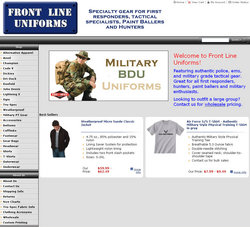 Police departments all across America are looking to save and we now offer them an alternative
Cranford, NJ (Vocus) June 29, 2010
Panda Apparel LLC, an online apparel retailer has launched another division, Front Line Uniforms with a companion website, http://www.frontlineuniforms.com. This division of Panda Apparel LLC is geared toward servicing the police and security industry with top quality, military grade tactical gear.
Front Line Uniforms has an extensive offering of the same professional grade uniform offered to the military, now offered to police, security and outdoor enthusiasts. "Police departments all across America are looking to save and we now offer them an alternative" says owner, Scott Marino. By offering these products direct to the officers, they can now purchase directly rather than through the supply chain, often at a better price.
With camouflage patterns ranging from the basic olive drabs to the new digital patterns, there is a design available for almost every purpose. Marino notes that "Many paint ball players and hunters have found these newer camo patterns to be much more effective than the basic camo."
Through the Front Line Uniforms line of apparel, small police departments, security firms and individual outdoors men can now save. Although the economy is affecting many apparel retailers, Panda Apparel's research indicates that sales in military grade tactical apparel will continue to grow well into 2011 as the economy continues to recover.
About the Company
Front Line Uniforms is a division of Panda Apparel LLC which carries high quality, military grade tactical gear. http://www.FrontLineUniforms.com is the retail branch of the company dedicated to selling tactical gear to police, security and outdoor enthusiast.
Panda Apparel, LLC was formed in 2007 and is owned and operated by Scott and Donna Marino. The two share over 20 years of experience in the apparel industry and 12 years of online specialty retailing. All of the company's divisions are committed to protecting and preserving the environment. As an international business, Panda Apparel, LLC is committed to the improvement of the worldwide state of human rights and environmental degradation.
###