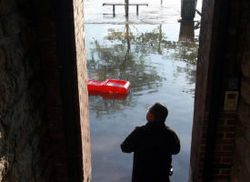 "A flood can certainly threaten your life and the loss of your home or possessions can be overwhelming," Fulmer said.
Brentwood, TN (PRWEB) June 30, 2010
Even though the waters have receded throughout Nashville, many people may have not forgotten the trauma of the experience. Sonja Fulmer, a counselor in Brentwood, TN uses a therapy called EMDR, which can be effective in helping flood victims resolve highly charged memories. "EMDR is often thought of as a therapy for PTSD (post traumatic stress disorder) victims," Ms. Fulmer said. "A flood can certainly threaten your life, not to mention the loss of your home or possessions can feel overwhelming."
EMDR is a technique that has the client recall the memory, while using bilateral stimulation. A certified EMDR therapist, Ms. Fulmer explained, "Essentially what happens is a person is not able to resolve the highly charged feelings around a traumatic memory, thus the feelings often override the intellect, and the memory stays 'stuck.'"
The type of traumatic memory can range from fearing for one's life to seemingly minor traumas, such as personal rejection or job loss. Events that happened during childhood can often have a magnifying effect on memories. "All of these traumas should not be minimized, since they can have profound effects on a person's emotions, and impact the decisions they make," Fulmer said.
On May 1st, thousands of people were displaced and affected by the floods in Nashville. EMDR may be a useful treatment to resolve some of the anxiety or depression associated with the disaster. Fulmer, the Brentwood TN therapist, said only about 25% of her clients who come to her for EMDR have diagnosable PTSD. "However, almost all my clients who are using EMDR find relief from their symptoms," she added.
Discovered in 1987, EMDR is a fairly new therapy; however, it has quickly gained acceptance because of its high rates of measureable success. In fact, the Department of Defense recommends EMDR as a treatment for troops coming out of combat with PTSD.
"Someone that is experiencing panic, anxiety, sleep disturbance, or flashbacks, may be a good candidate for EMDR," Fulmer said. If you are experiencing these symptons, or know someone who is, a questionaire, along with much more information on EMDR, can be found at Sonja Fulmer's web-site, http://www.sonjafulmer.com/.
###