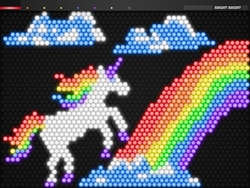 One user review states, "I'd recommend this app to anyone, whether you're 4 or 104, very clear menus and bright images make for a wonderful experience."
San Francisco, CA (PRWEB) June 30, 2010
Bright Bright, a glowing-peg art app for the Apple iPad created by Sunken Castles, is now available in the iTunes App Store. Priced at $1.99, Bright Bright allows users to draw original designs in colored pegs on the iPad. With the flip of a switch, virtual pegs glow vibrantly. Users choose from a palate of 7 colors and an eraser when drawing their original masterpieces or completing included template patterns. Saving function allows for works in progress to be completed later and finished pieces to be viewed and reviewed. Send options allows users to post their drawings to Twitter or Facebook, send through email, or save to their iPad's photo album. For a even more dazzling effect, press the ColorWave button to gracefully shift the colors of the pegs, turning static designs into a rhythmically shifting light show.
Bright Bright makes full use of the iPad's sharp display and touch interaction, transforming it into a pegboard light box. Pegs fall into place with a simple touch or drag, and users flip the virtual light switch to give their designs a radiant glow. The controls are simple and the results are immediate, making Bright Bright fun for children and adults alike.
Device Requirements:
Works on any iPad device
Pricing and Availability:
Bright Bright is available now in the iTunes App store for $1.99, exclusively for the iPad mobile device.
About Sunken Castles:
Sunken Castles is a new company specializing in iOS games and apps based in beautiful San Francisco. Sunken Castles began as the meeting of four minds, united in purpose: to create awesome games. The goal is to extract the essence of classic video gaming, reshape it in our own image and apply that to the new generation of gaming equipment: Apple mobile devices, a platform with very different and totally new means of interaction. We seek to create work that amazes, inspires, entertains and educates. Most of all, we want to make games that are fun and bring people together. Sunken Castles is Arik Devens (Chief Executive Officer), Jeremy Forson (Chief Creative Officer), Andrew Girard (Chief Game Designer), and Brice Hoffman (Chief Operating Officer).
# # #