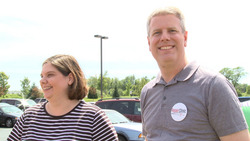 We are all asked what we think and for our opinion
Canton, MI (Vocus) June 29, 2010
Lively music, a giant inflatable and a delicious picnic meal were on hand on a beautiful June day in Canton, Michigan as online appliance parts retailer, RepairClinic, celebrated another successful year of business, honoring its employees with a day of food, family and fun. The outdoor event, dubbed the "Family Fun Day" included awards for employees for years of service in addition to an afternoon of fun for employee families.
RepairClinic was founded in 1999 with an overall business philosophy that, according to Chris Hall, President, included "treating employees the way you would like to be treated." Both Hall and Larry Beach, CEO, saw this philosophy not only as the right way to do business, but believed it to be an important part of a successful business plan, which has proven to be true, based on the consistent growth of the company over the last eleven years.
Company Culture
Jennifer Petersen, Customer Care Representative at RepairClinic, has experienced this "Golden Rule" business approach firsthand; "The culture here at RepairClinic is very positive…over all, most employees, in my opinion, are very happy. The culture that is cultivated is one of respect for and helping others…of treating others as you would want to be treated. When this happens, you naturally have a pleasant work environment."
Employee Appreciation
Jayce Ostrowski, Distribution Supervisor, also appreciates the employee-friendly environment at RepairClinic: "Upper management is family-oriented. If the company has success, the management team makes everyone feel like they played a part—they try to include everyone. If you work hard, you will be taken care of – compensated. The Family Fun Day event -- they [management] didn't have to do that, but they wanted the employees to feel appreciated."
Heroes Recognition Program
Many years ago, RepairClinic established something called the "Heroes" Program" which allows individual employees to nominate other employees for something they've done that is more than what was expected. This includes Good Samaritan acts of kindness such as helping another employee change a flat tire, covering a shift for someone who has a special family event, or helping to clean up after a company-wide event. Each year, dozens of employees are nominated for the Hero award, and a monthly drawing is held for a gift certificate to reward those who take the extra time to look out for others. According to Ryan Huntley, Call Center Supervisor, "Too many businesses these days only focus on the negative things people do and not enough on the positive things which should be rewarded. The Heroes Program is a good way to ensure people are praised for going the extra mile and working hard."
Teamwork from the Beginning
Many of RepairClinic's employees have been with the company from the very beginning. Shielda Burga, Warehouse Picker, is one of the original few from 1999. She remembers the very first order that was placed by a customer and the excitement surrounding it. She recalls, "We all wanted to be a part of it…everyone touched that order before it went out." And she feels that that tradition of teamwork has continued over the years. "We are all asked what we think and for our opinion," she adds.
Hands-on Leadership
Burga also has great respect for the company leadership. She says, the two founders of the company, Chris Hall and Larry Beach, "aren't afraid to get their hands dirty." She remembers a time when they were doing a major reorganization in the warehouse and Hall showed up in his business clothes, rolled up his sleeves and worked all day to help rearrange boxes and equipment. By the end of the day, Burga told him that she was worried his clothes were ruined because they were so dirty, but he just told her "they would wash." According to Burga, that's a consistent attitude among managers at RepairClinic – a team approach, where everyone pitches in to do their part -- even if it means ruining a nice shirt.
About RepairClinic.com
Founded in Canton, Mich., in 1999, RepairClinic.com® is the most comprehensive online resource for do-it-yourself home appliance repair help, parts and information. The site features more than 80 appliance brands—including Kenmore, Whirlpool, Maytag, GE, Frigidaire, and LG—across 16 appliance types (e.g., washers, dryers, refrigerators, stoves, ovens, and dishwashers). Do-it-yourselfers use the intuitive PartDetective®, to find the part they need or the leading-edge service, RepairGuru®, for customized, free repair help online. Appliance parts are stocked in a 72,000 sq. ft. facility and shipped the same business day. Visit http://www.RepairClinic.com for more information.
Media Contact: Luanne Berk, 734-748-7512, luberk(at)comcast(dot)net
###