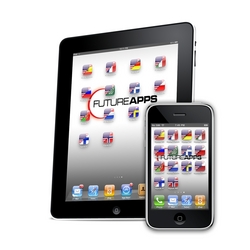 Our iSpeak apps have seen great success since they were released a year ago on the App Store. Our unique voice empowered solution allows customers to do anything from learn a new language to conduct business overseas on a device that fits in your pocket
New York, NY (PRWEB) June 30, 2010
Future Apps released today its long awaited major update to its iSpeak Translators. Along with the 2.0 update comes the release of three new iSpeak Apps; iSpeak Arabic, iSpeak Greek, and iSpeak Russian. The additional support of these three major new languages bring the total tally to 14 iSpeak translators.
iSpeak 2.0 update brings major enhancements to the existing iSpeak line of Applications. iSpeak apps are now universal, meaning the apps have been redesigned from the ground up to run on the iPad, with a new stunning interface to take advantage of the larger iPad screen. Existing iPhone owners will be able to use their updated iSpeak app on their iPad at no additional cost!
The update also brings full iOS 4.0 support to iPhone and iPod Touch owners, including multitasking, so you can now switch in and out of our iSpeak apps uninterrupted, and allow our industry leading text to speech engine play your translations in the background while you use other apps.
"Our iSpeak apps have seen great success since they were released a year ago on the App Store. Our unique voice empowered solution allows customers to do anything from learn a new language to conduct business overseas on a device that fits in your pocket," say Future Apps founder John Stefanopoulos. "We are happy to bring full iPad support, and the addition of Arabic, Greek, and Russian with this update."
The update is available immediately for free to our existing customers, and all iSpeak apps are available for purchase on the Apple App Store for a small one time fee of $1.99 for new customers. iSpeak is available in the following languages: Spanish, French, Italian, German, Russian, Arabic, Greek, Dutch, Polish, Portuguese, Swedish, Czech, Finnish, and Norwegian.
About iSpeak Translators:
The iSpeak line of applications are designed at taking mobile translators to a new level of capability and quality. Our iSpeak Apps are not merely a simple text translator, but use the highest quality text to speech synthesis available anywhere in order to speak the translated phrase back to you in the target language. The text to speech engine is so powerful, it reproduces speech which is clear, and has a perfect accent in the target language. You will not be able to tell the speech is synthesized at all!
About Future Apps Inc: Future Apps is a software based company dedicated to providing cutting edge software solutions to the iPhone/iPad mobile platform. We pride ourselves in creating applications that are simple and easy to use. We understand that a user on the go needs information quickly, easily, and with as little interaction as possible. That is the design philosophy infused in our apps. For more information, please visit http://www.future-apps.net/
###