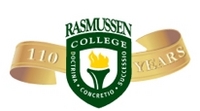 Rasmussen College is focused on providing students with the tools and resources that will help them meet their goals and achieve success both academically and professionally
Minneapolis (PRWEB) June 29, 2010
Rasmussen College is pleased to announce it has received a 2010 Excellence in Debt Award of Merit by USA Funds®, the nation's leading education loan guarantor. The USA Funds Excellence in Debt Management awards are presented annually to highlight outstanding campus debt management programs and to encourage other postsecondary institutions to follow best practices in debt management and student loan default prevention.
Rasmussen College was one of only four higher learning institutions recognized this year for promoting financial literacy by helping students minimize and manage their student loan debt, which allowed them to reduce their default rate by two percent during the most recent cohort period. USA Funds' staff and school representatives from the 2009 award winners selected the recipients of this year's awards.
"Rasmussen College is focused on providing students with the tools and resources that will help them meet their goals and achieve success both academically and professionally," Rasmussen College Vice President of Financial Services George Fogel said. "We recognize the importance of financial support in many students' paths to college. The Excellence in Debt Award of Merit from USA Funds further motivates our ongoing efforts to support students in this area."
In-person and online financial counseling is offered to Rasmussen College students through the organization's student finance department. Trained specialists within the department discuss financial aid at Rasmussen College, along with personal finance issues and loan repayment options with the more than 15,000 students enrolled nationwide through Rasmussen College Online, as well as through the 21 Rasmussen College campuses located throughout the Midwest and Florida.
An internal database helps track outstanding loans so that student borrowers can be contacted prior to entering the loan repayment period and in the early stages of loan delinquency. Monthly mailings, postcards, and emails to borrowers help further reinforce loan deadlines and update students about financial news. For borrowers with past-due loan payments, the department's outreach team is available for one-on-one counseling to discuss repayment and other options with students.
In an announcement released by USA Funds, Senior Vice President of Customer Relations Denise B. Feser said, "The inventive and effective debt management initiatives of these four institutions have demonstrated positive results in preventing student loan defaults. Promoting responsible borrowing and teaching students to become smarter consumers will help them better manage their education expenses and control their finances after graduation."
For additional information about Rasmussen College and its financial aid and scholarship offerings, visit http://www.Rasmussen.edu/financial-aid.
About Rasmussen College
Founded in 1900, Rasmussen College is a premier provider of educational experiences, dedicated to the growth and development of its students, employees, and the communities it serves. Accredited by the Higher Learning Commission, Rasmussen College offers Bachelor's and Associate's degrees in fields with the greatest occupation opportunities to more than 15,000 students both online and through its network of 21 campuses. By partnering with leading universities, Rasmussen offers opportunities to students beyond the Bachelor's level. The Rasmussen Partner Network gives students the opportunity to earn Master's and Doctoral degrees completely online, at their own convenience, from prominent universities around the country. To learn more about Rasmussen College, please visit http://www.Rasmussen.edu.
###