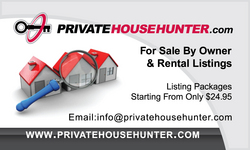 Due to the growing popularity of For Sale by Owner (FSBO), many homeowners are now realizing just how easy it can be to keep your hard earned money where it belongs most – in your pocket!
(PRWEB) June 30, 2010
This Promotion applies to our Basic Listing Package, a three month web only listing with the ability to add up to 5 photographs. This limited time Promotion will be offered until July 31st, 2010. We also encourage those selling their homes For Sale By Owner (FSBO) to take advantage of this promotion as well.
With the recent increase in private sales, owners can maximize online exposure to their property by advertising their home with descriptions and photos. It is also a great site for buyers to look for their new home, all without having to involve the services of a real estate agent.
Some people are concerned that they may not be able to handle the responsibilities involved in selling a home such as contracts, lawyers and home inspections. Our team has put together a variety of useful tools including a home buyer's checklist, moving checklist and mortgage calculator. We provide links to help our customers locate regional home inspectors, moving companies and real estate lawyers. We have even partnered with companies in both Canada and the United States that can provide the appropriate legal forms such as a Contract of Purchase and Sale.
Want to maximize the potential of our service? Visit http://www.privatehousehunter.com/sellers and select either our Advanced or Premium Listing Packages and advertise your property with our professionally designed, eye catching signs sure to capture that buyer's attention! The Advanced and Premium Listing packages not only include a broader spectrum of the Basic Listing package, but also include professional lawn signs to give your home a more visible presence. We have also included a hit counter to allow our customers to monitor activity on their listing, and use it as a tool in re-evaluating advertising as necessary.

Create your free listing in three short steps:
Step 1) Log onto http://www.privatehousehunter.com/account.login and click on the red box "Click to Create a New Account." Once completed, you are ready to create your listing.
Step 2) On our "Sell & Rent" page, select Basic Listing Package by clicking on "Buy Seller Package Now." This promotion applies to the Basic Listing Package only, which is a 3 month listing with 5 photographs.
Step 3) Follow the step by step instructions to create your listing and add photographs of your property. On the last page, there will be a box where you can enter the PROMOTIONAL CODE of FREELISTING. After entering this code, click on "Activate" and your free property listing will be posted to the site.
This Promotion is valid until July 31st, 2010.
# # #