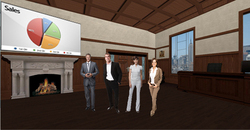 Mingleverse virtual telepresence could be the 'killer app' for 4G Mobile.
(PRWEB) June 30, 2010
Mingleverse Laboratories was awarded the "Most Innovative use of 4G WiMAX in a Mobile Broadband Application" by the Stanford Centre for Professional Development. Andy DiPaolo, Senior Associate Dean, School of Engineering, Stanford University, authorized the presentation of the Stanford certificate to Mingelverse. Mingleverse was selected from a field of highly select finalists consisting of private industry, startups, and university applications.
Robert Katayama, manager for this Stanford event stated, "Mingleverse has demonstrated an application that really shows why next-generation mobile networks are so exciting. Their application showcases the richness of voice, video and digital media interaction and collaboration that is possible when you have true broadband on mobile devices."
"Mingleverse virtual telepresence could be the 'killer app' for 4G Mobile. The ability to connect 2 to 50 people instantly to talk live while sharing media live in a fun, life-like, 2D or 3D virtual room is a real breakthrough for socially networked youth to mingle between countries," said Ron Stevens CEO and Co-Founder of Mingleverse. "The raw speed, low-latency and throughput of 4G allows Mingleverse's rich media sharing and scalable 3D voice technology to really perform", Stevens said. "Tens of thousands of people from 191 countries have already experienced Mingling but to have all this on a mobile platform is a real game changer."
Mingleverse has deployed a beta version of its service to Windows PCs and Macs and this week has successfully demonstrated its service on Android. Android, iPad and iPhone 4 versions of Mingleverse are under development and will soon be available for release later this summer. Users can access Mingleverse directly through mingleverse.com or via the recently-launched Facebook Application.
Mingleverse, a member and participant of the Clear 4G WiMAX Innovation Network, used the Innovation Network in the beta demonstration of its award-winning product. "It was great to have Mingleverse demonstrate its award winning application on our 4G WiMAX Innovation network," said Todd Lewellen, Director, Developer Program for Clearwire. "Combining the speed and power of true mobile broadband, Mingleverse has clearly demonstrated the advantages of application development on a 4G network."
"With so much communication migrating towards social networks, Mingleverse is well positioned to be the tool that people use to share their pictures, video, media, and lives with their friends and families in real-time virtual get-togethers", said Derek Kerton, Chairman, Telecom Council of Silicon Valley.
"Congratulations to Mingleverse for their accomplishment at the Stanford University 4G WiMax symposium," said Kevin McGinnis, Director of Product Management and Development for Sprint. "Sprint is thrilled to see developers taking advantage of the capabilities of the Sprint 4G network to create innovative and useful apps for both consumers and business users."
About Mingleverse Laboratories
Mingleverse is the pioneering supplier of virtual telepresence communications services that allow people to talk, share and collaborate as if they were physically present with each other. Mingleverse Laboratories is privately-held and is based in Vancouver, British Columbia, with an office in Sunnyvale California. Please visit http://www.mingleverse.com or follow on twitter.
About the 4G WiMAX Developers Symposium
The 4G WiMAX Developers Symposium at Stanford University is an opportunity to learn from some of the world's wireless leaders in 4G WiMAX. 4G WiMAX is a powerful new technology providing mobile high-bandwidth internet access rivaling speeds of traditional cable and DSL connections. This mobile internet is creating the new standard in internet speed, stability, and coverage. Attendees learn from the industry leaders and Stanford faculty responsible for the development of this technology as they discuss new ideas on how to create, develop, and apply this next generation mobile internet.
About the Clear 4G WiMAX Innovation Network
The Clear 4G WiMAX Innovation Network is a special program operated by CLEAR WIRELESS LLC for professional mobile Internet application, service, and content developers who live or work in Silicon Valley. This program provides early access to the Bay area's pre-commercial 4G WiMAX network and is a precursor to commercial service planned for the San Francisco Bay Area. The Innovation network currently covers more than 30 square miles of Silicon Valley in Santa Clara, Mountain View and parts of downtown Palo Alto, California.
About Sprint Nextel
Sprint Nextel offers a comprehensive range of wireless and wireline communications services bringing the freedom of mobility to consumers, businesses and government users. Sprint Nextel served more than 48 million customers at the end of the first quarter of 2010 and is widely recognized for developing, engineering and deploying innovative technologies, and is the first and only wireless 4G service from a national carrier in the United States; offering industry-leading mobile data services, leading prepaid brands including Virgin Mobile USA, Boost Mobile, Common Cents Mobile and Assurance Wireless and instant national and international push-to-talk capabilities; and a global Tier 1 Internet backbone. With its customer-focused strategy, you can learn more and visit Sprint at http://www.sprint.com or http://www.facebook.com/sprint and http://www.twitter.com/sprint.
# # #