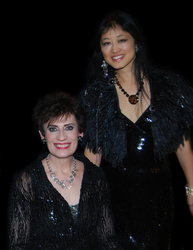 What is it About Adam Lambert?
Cleveland, OH (Vocus) June 30, 2010
Adam Lambert is the 28-year-old singer who captivated millions of viewers of American Idol in 2009 and whose current singles, "Whataya Want From Me" and "If I Had You," are climbing the charts domestically and internationally. Playing venues across the U.S. this summer with his Glam Nation Tour, Lambert has been extolled by veteran radio DJ Matt Siegel of Boston's KISS 108 as a "once-in-generations talent."
Lambert has attracted a fervent following of all ages and nationalities. Among them are Juneau Underwood and Katherine Hollinsworth, two Baby Boomers who connected on a website about Lambert last summer and ended up re-inventing their lives. The women met on a website that posted an article by writer Allegra Huston, "What is it About Adam Lambert?" soon after the singer rocketed to national fame on American Idol. They became fascinated with understanding his impact, and commented prolifically as "Juneau" and "Xena", launching an remarkable journey that culminated in the publication of their posts - writings that cover a wide array of topics and personal transformations - in a book, On the Meaning of Adam Lambert, available on Amazon.
In a recent interview with the authors, Fox Connecticut anchorman Logan Byrnes noted "this book is getting rave reviews on Amazon." It explores not only the star qualities of Lambert, but also why he appeals to a diverse fan base, well beyond the teens and twenty-somethings that form the bulwark of most pop star fandom. "It is as much about the fans as it is about Adam," say the authors. "We grew up with rock 'n roll, but life has boxed us into roles that are just part of who we are. Adam was a wake-up call. By deciding to go on American Idol, being proudly gay and glam, he is taking charge of his destiny and being true to who he is. Whether you love him or not, you cannot deny his bravery."
"Fans have been inspired to change their lives," the authors observe. "They have started writing, creating art, making films, taking up charitable causes, going back to school. He's unloosed an incredible wave of positive transformation." This is also a story about technology and social media, to which Lambert's fans have flocked not only in search of news but also to form cybercommunities that span the globe, where they find new friends and support.
Buoyed by the enthusiastic response to their book, the authors have launched a blog, also called On the Meaning of Adam Lambert, and Juneau & Xena's Blogtalk Radio show. The authors' writings resonate with readers from around the world, who pour out their feelings online: "[This book] is more than a simple fan book," writes one. "It's a book about life and how the unexpected can come along and change everything up. It's a book about finding the person you've always wanted to be and acting on your dreams. It's a story of triumph and perseverance. It will make you laugh, and it will make you cry."
Underwood and Hollinsworth are available for interviews to provide a unique angle to your coverage of the upcoming Adam Lambert concert in your area.
ATTENTION: Of special interest to media covering these events:
7/2/10 Charlotte, NC, The Fillmore Charlotte (Glam Nation Tour)
7/3/10 Myrtle Beach, SC (Glam Nation Tour), House of Blues
7/6/10 Knoxville, TN, Tennessee Theatre (Glam Nation Tour)
7/7/10 Nashville, TN The Ryman (Glam Nation Tour)
7/9/10 Cleveland, OH, Allen Theater (Glam Nation Tour)
7/10/10 Louisville, KY, Kentucky Center for the Performing Arts (Glam Nation Tour)
7/12/10 Chesaning, MI, Chesaning Showboat Music Festival
7/13/10 Lansing MI, Common Ground Festival, Adado Riverfront Park
7/15/10 Kansas City, MO, Midland Theatre (Glam Nation Tour)
7/17/10 Denver, CO, Paramount (Glam Nation Tour)
7/19/10 Boise, Idaho, Morrison Center (Glam Nation Tour)
Juneau Underwood is a web entrepreneur, writer and editor specializing in neuroscience. She graduated from Harvard College, where she studied physics. Katherine Hollinsworth enjoyed success in business before the siren call that led to stints in politics and government. She has just launched a blog, Katherine Hollinsworth Unwrapped, of her opinion writing and essays. She graduated from York University with a Bachelor of Fine Arts. Photo credit: Alex Hollinsworth
###