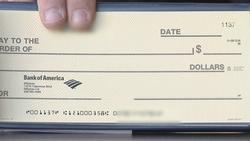 Houston, TX (Vocus) June 30, 2010
Just recently, CheapCheckStore.com based out of Houston, Texas, expands its inventory of check styles to include 75 new designs. A major supplier of both personal and business checks, the online venue now boasts hundreds of designs for cheap checks, many of which can be customized with a business logo and special fonts. In addition to the standard checkbooks, the site also offers check stock compatible with most computer accounting and check printing software packages.
With prices starting at $5.99 for certain designer checks, CheapCheckStore.com offers multitudes of designs at extremely affordable rates for individuals and corporate clients. Since this is the manufacturing entity of these financial documents, there is no distributor mark-up on the products. Discounted contracts are also available to long term corporate clients.
In addition to offering all types of cheap checks to individuals and the business community, CheapCheckStore.com is also a leading supplier of deposit tickets, ink stamps, address labels and check binders and covers. Businesses will note that obtaining all their financial document blanks from this single manufacturer, customized with their company logo, can be done for less than what their banking institution would charge. It is also possible for companies to include corporate slogans or tag lines on business checks in a variety of fonts. Coordinating all of a company's financial document designs will leave a polished, professional impression with the clients and suppliers who receive them.
Just because this established manufacturer offers cheap checks and other products for less does not mean that CheapCheckStore.com skimps on quality or security measures. All check and deposit ticket stock is always on premium paper products and meets all banking requirements for encryption and security. To protect against those who engage in check fraud, security screens, micro-printing methodologies and security bands are employed during the manufacturing process.
Interestingly, the website is a McAfee secure venue, protecting the privacy and confidential banking information of every client. Customer lists and client data are never made available to third parties.
Whether a client requires specialty items like dual signature blocks or unique formats, or just standard plain checks for handwriting, CheapCheckStore.com provides a myriad of design options to select from. Reordering supplies is a simple process and also available through the online venue. Offering priority shipping to all continental US locations, many orders can be processed in as little as six days and even custom print jobs are turned around in very reasonable time frames.
About CheapCheckStore.com:
A premier online venue for both personal and business checks, CheapCheckStore.com offers secure ordering for individuals and corporate entities. As a manufacturing source of cheap checks in hundreds of designs, the site also provides address labels, deposit tickets and ink stamps for less.
Contact Details:
CheapCheckStore.com
3262 Westheimer Rd. Ste 416
Houston, TX 77098
Phone No: 1-877-877-6305
Website: http://www.cheapcheckstore.com/
###