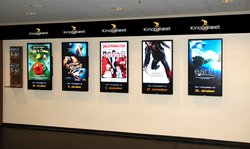 Scala Content Manager has given us much more flexible and reliable content management options, and we can now do content updates quickly and easily.
Valby, Denmark (PRWEB) June 30, 2010
Danish movie theater chain Nordisk Film Biografer has updated its digital signage network using Scala software with the help of Scala Certified Partner IT Gruppen. Nordisk Film Biografer now uses Scala Content Manager and Scala Players to broadcast content to115 Sony LCD screens, ranging up to 50 inches, throughout 17 of its modern movie theaters.
The theaters use digital signage in their lobbies and waiting areas to entertain guests while they purchase tickets and wait for movies to begin. Large screens provide patrons with trailers for upcoming films, general information and advertising from Nordisk Film Biografer's partners.
"Movie trailers are a very important part of our cinema's marketing, and hopefully they inspire guests to come back and see a new movie at the same movie theater," said Teis Nielsen, Instore and Graphics Manager at Nordisk Film Biografer. "With our new Scala solution, we experience a smoother transition of trailers and a better image quality, so the contents appear clearly."
Another key benefit of the network is that it broadcasts offers available from the theaters' kiosks, sales from which are crucial to generating revenue. Since implementing Scala, Nordisk Film Biografer has experienced an increase in kiosk sales.
Additionally, Nordisk Film Biografer uses Scala to manage its digital movie posters, which have drawn great excitement and attention from moviegoers. This eye-catching solution using vertically mounted screens has saved the theater chain time and money associated with creating, printing and transporting traditional posters.
"Scala Content Manager has given us much more flexible and reliable content management options, and we can now do content updates quickly and easily," Nielsen said. "This solution looks very modern and professional, and it raises the overall impression of the movie theaters."
A case study containing images and more information on this installation is available at http://www.scala.com/news/studies/case-study-pdfs/nordisk-film-biografer-uses-digital-signage-to-entertain-patrons-waiting-to-buy-movie-tickets.
About Nordisk Film
The oldest film company in the world, Nordisk Film, is a division in the Egmont Group and the leading Nordic developer, producer and distributor of creative content within movies, feature animations, TV, music and games. Nordisk Film holds the Nordic distribution rights to Sony PlayStation and owns movie theatres in Denmark and Norway. Nordisk Film also owns post-production companies, film laboratories and broadcasting facilities. The company employs 1,300 employees in the Nordic countries, and a large number of project and part time employees.
About IT Gruppen
With more than 25 years of experience, IT Gruppen is Scandinavia's largest supplier of value-creating IT solutions for the retail industry as well as Denmark's leading provider of specialized IT solutions for the graphic and media industries. In addition IT Gruppen delivers mobile solutions across all industries in Scandinavia. Employing 180 employees IT Gruppen has a strong product knowledge and a deep insight into the retail and media industries. More information is available at http://www.itgruppenas.dk.
About Scala
Driving more than 500,000 screens worldwide, Scala is a leading global provider of digital signage and advertising management solutions. Scala is the world's first connected signage company, offering the leading platform for content creation, management and distribution in digital signage networks and the first unified platform for advertising management of both traditional and digital signage networks. The company's digital signage customers include Rabobank, IKEA, Burger King, T-Mobile, Virgin MegaStore, Warner Brothers, The Life Channel, Rikstoto, Repsol, NorgesGruppen, Audi, ECE Flatmedia, Kaufhof (Metro Group) and thousands more. Advertising management customers include CBS Outdoor, Clear Channel Outdoor and Magic Media, among others. Scala is headquartered near Philadelphia, USA, and has subsidiaries in Canada, The Netherlands, France, Norway, Germany and Japan, as well as more than 450 partners in more than 60 countries. More information is available at http://www.scala.com.
©2010 Scala, Inc. 350 Eagleview Blvd. Exton, PA 19341. Scala and the Exclamation Point Logo are registered trademarks of Scala.
# # #