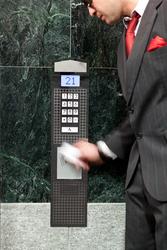 Morristown, NJ (PRWEB) June 29, 2010
Schindler Elevator Corporation, a leading global provider of urban mobility solutions, now offers enhanced Destination Interface technology for existing buildings, regardless of original manufacturer. Since introducing the industry's first destination dispatch technology – Miconic 10® – in the early 1990s, Schindler has been the driving force of innovation, delivering the most advanced destination-based elevator technology in the industry.
Now, with the unique Destination Interface technology and Schindler ID® human interface system, building owners and operators can benefit from destination dispatch performance and access control improvements with "the flip of a switch". Ideal for use in existing buildings as part of a modernization, Schindler ID minimizes waiting times; improves traffic handling by 30 percent over conventional systems; and incorporates unique, ADA compliant, handicap assistance features, all with no disruption in service. Schindler's best-in class destination-based technology has been implemented in more than 5,000 installations around the globe, with more than 1,200 new and modernized units in the United States alone.
When used as part of an elevator modernization, Schindler's Destination Interface seamlessly links each elevator car to the destination-dispatch system as a whole, allowing passengers to select their desired floor number before entering the elevator using a pre-programmed keycard or device. A computer then groups those going to the same or nearby floors and assigns them to a specific elevator car.
By grouping passengers with similar destinations, Schindler's Destination Interface technology reduces the strain on the entire system by reducing starts and stops, eliminating the need for additional elevator trips, and increasing the speed and efficiency of each trip. Additionally, because Schindler's Destination Interface conversion process is transparent to tenants, users experience all the features, functions and benefits of destination dispatching immediately and with minimal to no disruption of service.
Schindler Phased Modernization
For many building owners and managers, a simple upgrade to the Schindler Destination Interface system may be the only step needed to quickly improve a wide range of elevator performance requirements. Depending on the age and condition of the existing elevator system, Schindler has solutions for when a building requires more than just a dispatch change.
By using a phased modernization approach with Schindler's Destination Interface technology, the immediate improvements in elevator efficiency and performance experienced by the entire bank offset the typical inconveniences that are associated with having a car out of service for months to perform the required upgrade work. In fact, the system may be able to handle more traffic with one car out of service and Schindler destination dispatch, than it did previously with all cars at full capacity.
As each updated elevator car is integrated into the Destination Interface system, the additional performance benefits will accrue throughout the modernization, resulting in improvements in traffic handling, energy savings and personalization never before possible. A phased modernization will also offer opportunities for building management to better manage their cash flow for this capital investment.
"The first generations of Schindler's destination dispatch technology took the elevator industry beyond the pushbutton age into an exciting new world where personalized service and improved traffic handling is possible," says Michael Landis, vice president of marketing, Schindler Elevator Corporation. "With Destination Interface, Schindler is making this technology accessible to building owners and managers around the world with no limitations based on the age, condition or the original manufacturer of their existing equipment. Perhaps most importantly, a Schindler Destination Interface
modernization brings you all the benefits of destination dispatch technology with the flip of a switch, which means immediate results, minimal downtime and a cost that can help you stay competitive in today's building environment."
About Schindler Elevator Corporation
Schindler Elevator Corporation designs, manufactures, installs, services and modernizes a broad range of elevators, escalators and moving walks for almost every building type. The company is the North American operation of the Switzerland-incorporated Schindler Group, a leading global mobility provider, present in more than 140 countries. Schindler supports sustainable urban development with safe, reliable and ecologically sound mobility solutions.
For additional information about Schindler Elevator Corporation, visit the company's Web site at http://www.us.schindler.com.
###