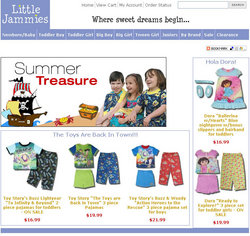 Although Little Jammies specializes in licensed sleepwear for children, we incorporate a lot of underwear and accessories that tie into the line
Cranford, NJ (Vocus) June 30, 2010
LittleJammies.com, the boutique on-line children's sleepwear company has been very successful with the Paul Frank children's sleepwear collection over the past several years. This Spring, a new line of Paul Frank apparel has been introduced - children's underwear.
"Although Little Jammies specializes in licensed sleepwear for children, we incorporate a lot of underwear and accessories that tie into the line," says buyer Donna Marino. "Most parents who are shopping for their child are always on the look out for hip new replenishable products," say Marino. Pajamas and underwear need to be replaced often.
"This is great for us," states Scott Marino owner/web developer. "While most people have been cautious when spending, we have been fortunate enough to maintain our profit margins due to the need for 'replenishables'." Kids are always growing….seasons changing etc.
The new Paul Frank underwear collection has demonstrated strong sales since it was released. This whimsical collection includes a '7 days a week' grouping for girls and silly career characters on multi pack briefs for boys and toddlers. All of them designed with the infamous Julius the Monkey and are the perfect item to complete any child's wardrobe.
Led by bright colors and unique designs, Paul Frank has reached unconventional, worldwide success because of its almost cult-like following from pre-teens to twenty-something's. Everybody loves Paul Frank and Julius the Monkey and really what's not to love? Since its humble beginnings creating bags and wallets, Paul Frank has become a global success, appealing to young people and adults alike The new underwear collection reaches out to an even younger girls, boys and toddler demographic.
About the Company
Little Jammies is a division of Panda Apparel LLC which carries high quality children's sleepwear and undergarments. http://www.LittleJammies.com is the retail branch of the company dedicated to selling children's products.
Panda Apparel, LLC was formed in 2007 and is owned and operated by Scott and Donna Marino. The two share over 20 years of experience in the apparel industry and 12 years of online specialty retailing. All of the company's divisions are committed to protecting and preserving the environment. As an international business, Panda Apparel, LLC is committed to the improvement of the worldwide state of human rights and environmental degradation.
###