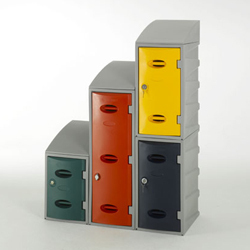 (Vocus) June 30, 2010
For the first time England will be hosting the prestigious international Samsung Hockey Champions Trophy Women at Nottingham's Highfield Sports Club 10th-18th July. England's team will be aiming for a top four finish, and in support storage equipment specialist Action Storage will be supplying eXtreme® lockers free of charge as one of the event's proud sponsors.
The eXtreme® lockers are to be used in the press area for securely storing cameras and other equipment belonging to journalists at the tournament. Made from hardwearing polyethylene plastic, the eXtreme® plastic locker is exceptionally hardwearing and more secure than conventional metal lockers. Its hinges can withstand 3200N of pressure without breaking (which is 7 times FIRA industry standard) and strong enough to resist break in attempts with a claw hammer. This makes the eXtreme® locker the ideal choice for keeping valuable equipment, personal possessions and sports equipment safe at the Hockey Champions Trophy.
Being made from polyethylene plastic also means that the eXtreme® locker is waterproof and can be stacked outdoors or placed next to a swimming pool or in a wet area without fear of it rusting. The eXtreme® Locker is a popular choice as a school locker for saving space in corridors and classrooms. The locker is also exceptionally hygienic, making it ideal for changing room or wash down areas. It can be spray cleaned with a high pressure hose and chemical disinfectant before being left to dry, with drainage holes to allow water to seep through.
Along with the eXtreme® plastic locker, Action Storage supplies a wide range of innovative storage equipment used in 100s of schools, sports club and leisure centres across the UK and mainland Europe. This includes innovative Supershelf™ shelving, for maximising storage space in equipment rooms, staff lockers and hygienic plastic changing room benches.
Further information on Action Storage's innovative range can be found on its website where you can also order or download its new 160 page catalogue free of charge. Public sector organisations can place orders on credit with a valid purchase order, and all online orders receive a 5% discount.
If you're hosting an event, Action Storage will be happy to discuss the possibility of providing sponsorship and can be contacted on 0800 592215.
About Action Storage
For over 23 years Action Storage has supplied shelving, racking and other storage equipment using the latest materials and innovative designs. Its clients include supermarkets, warehouses, government offices, schools and anyone else requiring high quality storage systems throughout the UK and mainland Europe.
Action Storage prides itself on its high service levels, and provides a free, unique advice line for discussing your requirements and assessing the perfect storage solution.
For service enquiries contact:
Website: http://www.action-storage.co.uk
Tel UK: 0800 592215
Outside UK: +44 (0)1908 525700
Fax: +44 (0)1908 321650
Action Storage
6 Fitzhamon Court
Wolverton Mill South
Milton Keynes
Bucks
MK12 6LB
Sources
wct2010.com
telegraph.co.uk/sport/othersports/hockey/7797947/Womens-Champions-Trophy-2010-complete-tournament-guide.html
###