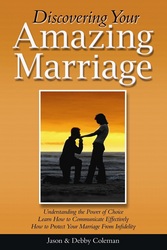 Seattle, WA (Vocus) June 30, 2010
Between the Tiger Woods scandal, the Jesse James cheating shocker, and the Gores recent announcement of their split, it feels like we live in a world where it's impossible to keep marriages strong, stay faithful, and last forever. We all want to keep that thrill alive that we experience during a first kiss or first date but where does that anticipation, overwhelming joy, pure devotion, and bright hope of romance go, once you're married?
Authors Debby and Jason Coleman have experienced their fair share of challenges, even infidelity, and now share their own secrets and meditations on marriage in their new book Discovering Your Amazing Marriage (Seraphina Press, ISBN 978-0-9841965-3-1; June 2010, $14.95). Jason says, "Within the first six months of our marriage, we had to deal with the consequences of infidelity and the very real possibility of divorce. These things aren't supposed to happen at all; but if they do, it's usually later in life when married people drift away from each other. Or so we thought."
Keeping passion alive once the doldrums of daily family life sets in is easier said than done. After having children, moving to a new place, advancing in a career, or experiencing a trauma or loss—marriage can become a habit or even worse, rote duty.
"We now know through our own experiences that nothing can destroy a marriage quicker than infidelity, but we also know that we have a story to tell that may encourage couples to stay the course and make their marriage work, no matter what challenges they may face. We are a living testimony of the power of forgiveness and restoration."
No matter how long you've been married, with the timely, honest and spiritually relevant advice in this book, a marriage filled with respect, love, passion, and devotion is within your reach.
For more information please visit: YourAmazingMarriage.com
About the Authors: Debby and Jason Coleman have four children and celebrated 20 years of marriage in 2009. The Coleman family resides in Federal Way, WA. Jason and Debby will be appearing at Borders Books in Tacoma (7/10), Federal Way (7/17) and South Center (8/7) to sign copies of their new book. Review copies are available through Serpahina Press.
###