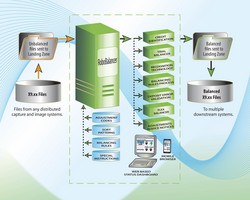 We are so confident in RoboBalancer's automatic capabilities that we have devised a comparison test for banks. RoboBalancer can ingest a bank's unbalanced X9.xx files, send them through its processes and algorithms, and provide results of RoboBalancer's competence
Memphis, TN (Vocus) June 30, 2010
Software Earnings is proud to announce the release of RoboBalancer, an automated balancing solution aimed at the large bank market. This new solution is designed to identify and solve out-of-balance deposit transactions within a bank's payments processing system. RoboBalancer will be available for review in late July of 2010.
RoboBalancer targets out of balance transactions and corrects them, invoking an automatic series of algorithms and processing functions. This solution drastically speeds up the balancing process, saving banks time and reducing the workload for balancing operations. Software Earnings anticipates that RoboBalancer will ultimately identify and balance 80% - 90% of banks' deposits.
"We are certain that RoboBalancer will provide a very advantageous service to our customers, saving banks both time and expenses in deposit balance operations. RoboBalancer will balance the vast majority of deposit conflicts automatically, and our solution is customizable to each of our clients' needs. RoboBalancer is the first solution of its kind, and reflects the fact that Software Earnings is a leader in innovative banking software. We are very proud to be partnering with Orbograph on this remarkable new product." said Software Earnings CEO Larry Thornton.
Software Earnings has developed RoboBalancer to electronically balance deposits with X9.xx image files from a variety of sources within the bank. The heart of RoboBalancer is Software Earnings' Balancing Rules Engine. This engine encompasses all the balancing features expected from manual balancing in automated form, including adjustments for credit read as debit, misreads, moves, and write-offs. Designed with straightforward installation in mind, RoboBalancer installs easily into a banks' legacy processing system. Adding RoboBalancer can be accomplished in a graduated method to enhance a bank's current transaction processing.
"We are so confident in RoboBalancer's automatic capabilities that we have devised a comparison test for banks. RoboBalancer can ingest a bank's unbalanced X9.xx files, send them through its processes and algorithms, and provide results of RoboBalancer's competence," said Software Earnings project manager Charles McBride.
Software Earnings partners with Orbograph, a recognition technology specialist, on this important new solution. Orbograph's Recogntion and Automation Services technology integrated into RoboBalancer will provide the necessary technology to assist the intelligent, automatic balancing of deposits.
"RoboBalancer is an innovative system following in Software Earnings' reputable history of bank balancing. Our company has 22 years of experience as a trusted software developer for the banking community, and we have 12 years of in-depth knowledge of deposit balancing," affirmed David Garavelli, an industry specialist and executive vice president of product management at Software Earnings.
About Software Earnings
For over 20 years, Software Earnings (http://www.softwareearnings.com) has continued to deliver reliable, high-performance check processing solutions. We can provide financial institutions with an end-to-end payments processing solution featuring our software applications and processes in one complete package— Payments Navigator. Payments Navigator now includes RoboBalancer, an automatic balancing solution that provides major cost savings for financial institutions. For more information, please contact a Software Earnings relationship manager at 901-756-4555.
About Orbograph
Orbograph (http://www.orbograph.com) , a subsidiary of Orbotech, is a leading provider of recognition-centric software and services for the check processing and forms processing markets. Orbograph's innovative technologies are in use in over 1000 financial institutions and service bureaus, processing billions of checks and forms annually. Through check processing automation, fraud prevention, data mining for marketing and forms processing automation solutions, Orbograph enables clients to envision more for their organization by reducing costs, managing risk and driving revenue growth, while ensuring that achieving more is a reality.
# # #