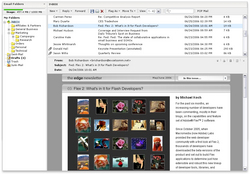 We believe channel partners want sizable margins on competitive products, and at the same time want to own the customer relationship in order to earn additional services revenue.
Rochester, NY (PRWEB) June 30, 2010
BlueTie, a leading provider of hosted email and collaboration solutions for businesses, today announced a new private label reseller program that boasts industry leading margins and meaningful benefits for channel partners of all sizes. The program, which features an option to sell unlimited email accounts at no monthly cost, is designed to provide channel partners a flexible and profitable program that promotes their brand.
"VARs and MSPs have been reluctant to embrace cloud-based email. To find out why, we took a hard look at rival reseller programs, and they all have the same deficiencies – especially Google and Microsoft," said Jeremy Hunter, President of BlueTie, Inc. "We believe channel partners want sizable margins on competitive products, and at the same time want to own the customer relationship in order to realize long term value."
The substantial margin Hunter refers to goes well beyond just free email accounts. Nearly all products in this new plan, including services such as email archiving, real time mobile email, and advanced spam and virus protection, are offered to resellers at 50% or more below retail pricing. Partners earn up to 40% in additional discounts as their volume increases.
Completely white-labeled and partner branded, BlueTie's channel program presents partners with a platform for growth, marketing opportunities, and the ability to earn recurring services revenue through direct ownership of customers. Resellers receive partner-level assistance from BlueTie while implementing and managing new users.
Resellers can sign up for the program online with zero wait time, no credit checks, and no pre-existing user base requirements. Additionally, partners have access to an extensive knowledgebase with product demos, FAQs, white-labeled sales peripherals and more.
"Microsoft and Google have cumbersome application processes and lengthy credit checks for their programs," said Hunter. "We wanted the focus to be on ease of use. BlueTie channel partners can sign up and start selling the same day, and we have a support network to assist with any questions that may come up."
More details on the new channel program are available at http://www.bluetie.com.
About BlueTie, Inc.
BlueTie is the leading provider of Software-as-a-Service collaboration services for businesses (SMBs) worldwide. BlueTie offers a cloud-based email, calendaring, and collaboration application suite, integrated with the Web's most useful services. BlueTie revolutionized the SaaS market in 1999 by introducing the first hosted suite of small & mid-sized business collaboration tools, and continues to be a market leader by delivering incredibly simple applications that are fast, inexpensive and reliable. For more information visit http://www.bluetie.com.
###