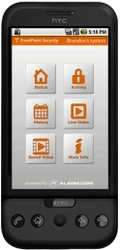 Mc Lean, VA (PRWEB) June 30, 2010
Just as a fired-up grill should never be left unattended, a home should never be left unprotected without a strong security system in place. This Fourth of July weekend many families will party with neighbors, family, and friends by hosting their own backyard barbeques. Other families will join Independence Day parties around the corner or travel out of town (leaving their homes unoccupied). So, whether playing the role of cook, hostess, or guest, remember: safety first. FrontPoint Security, the leader in next-generation, wireless security systems, offers these tips to help keep your home safe and secure so you can focus on your grill, your guests, and having fun
Security Tips for Hosting Your Own Party
Don't leave your front door unlocked – Leaving the front door unlocked for guests to come and go may seem like an inviting touch, but can also invite unwelcomed guests (even criminals) into your home undetected. Instead, have guests knock on the front door or use an easily- monitored side or porch entrance to your home.
Keep tabs of everyone while they are there – By installing a wireless home alarm system, you can monitor different areas of your home while staying focused on entertaining. Simply use your iPhone, BlackBerry or Android mobile device to see if anyone is accessing off-limits areas such as the master bedroom, a jewelry box, or medicine and liquor cabinets. Mobile home security apps and wireless micro sensors are the perfect solution to keep track of all sensitive areas in your home.
Security Tips for Traveling to a Party
Watch your home while you are away – With video surveillance cameras, you can easily monitor your home while away by watching a live video feed on your cell phone or through text message alerts. Wireless video cameras are available at very reasonable rates and can easily connect to the latest security system.
Relax with professional monitoring – Chances are, no matter how attentive you are to your text alerts and home video feed, you can't keep track of it all the time. With professional monitoring, your home can be monitored literally 24 hours a day, 7 days a week. And not just for potential burglaries. Next-generation home alarm systems can also monitor for fire and environmental conditions such as flood, freeze and smoke.
Let FrontPoint Security give you peace of mind with superior home protection this Fourth of July, leaving you to focus on entertaining guests and grilling that perfect hamburger or hot dog.
For more information on FrontPoint Security, visit http://www.frontpointsecurity.com.
About FrontPoint Security
FrontPoint Security is the leading nationwide provider of DIY alarms and wireless security systems. FrontPoint Security combines next generation technology with unrivaled simplicity and an amazing commitment to service, to create a truly unique customer experience. With customers in all fifty states, Canada and Puerto Rico, FrontPoint Security is one of the fastest growing alarm companies in North America. FrontPoint is a GE Security Authorized Dealer and Alarm.com's Preferred Dealer for no-hassle security solution. For more information, please visit http://www.FrontPointSecurity.com or call (866) ALARM 30.
###