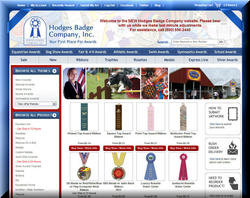 We are very excited about the launch of our new site and working partnership with D.M.insite
Cincinnati, Ohio (Vocus) June 30, 2010
D.M.insite, a company that specializes in developing and delivering ecommerce Software as a Service (SaaS) for the mail order catalog industry, today announced that Hodges Badge Company, the leading custom manufacturer of motivational and recognition awards, sales incentives, and promotional buttons and ribbons, has launched a dynamic new ecommerce site built on the D.M.insite Mercury Platform™ (Mercury Platform). The new site leverages the built-in functions of the Mercury Platform, including a feature that allows for product configuration by the shopper at the time of order. In addition, the site enhances the customers' overall shopping experience and creates cross-channel synergies with Hodges Badge Company's catalog business.
"We are very excited about the launch of our new site and working partnership with D.M.insite," said Rick Hodges, president of Hodges Badge Company. "The site offers our customers a much richer shopping experience. Moreover, our company is well positioned to support our catalog business and maintain our competitiveness online with the freedom and flexibilities we get using the Mercury Platform."
http://www.hodgesbadge.com boasts a fresher, cleaner and more inviting site design, along with many key functions, such as:

Providing customers with the ability to custom design their ribbons to meet their unique needs. Shoppers simply pick-and-choose from an array of production attributes and, as they build their ribbon, are able to make certain they are making the correct choices. The result improves the overall satisfaction of their purchase.
Improved search engine optimization (SEO) to increase online visibility and boost revenue by making sure the site and products show up in relevant searches.
Streamlining the site's navigation and usability that allows shoppers to easily locate and view more product displays and information on a page.
A number of other enhancements to the customer experience, such as an ability to rate and review products.
"We're delighted to partner with Hodges Badge Company to help them increase their online sales with our leading ecommerce SaaS platform and our ability to provide much faster and more in-depth insights on improving conversion rates, attracting traffic and adopting other best practices," said Larry Kavanagh, D.M.insite founder and CEO. "We look forward to working with Rick and his team for many years to come."
About D.M.insite™
D.M.insite develops and delivers its ecommerce Software as a Service to the mail order catalog industry. The D.M.insite Mercury Platform™ is the company's flagship ecommerce software that gives clients unprecedented freedom to manage their own sites and grow their online business at a rate that's more than double the industry's average. This approach reduces the entry barriers for clients looking to launch an online store that includes all the latest selling features and built-in best practices without incurring the cost of custom software.
The company also offers D.M.insite Mercury Mail™, its email marketing software that has built in best practices for segmentation, email automation and email deliverability. Mercury Mail operates seamlessly within the Mercury Platform and as a standalone email-marketing tool.
D.M.insite is located in the greater Cincinnati area and has a technology office in Cupertino, California. To learn more, visit http://www.dminsite.com or call 859.261.8700.
About Hodges Badge Company
Family owned and operated business since 1920, Hodges Badge Company is the number one custom manufacturer of quality ribbons , rosettes , medals , presentation silver, sashes and buttons in the United States.
The company turns more than 12 million yards of satin ribbon into rosettes, flat ribbons and neck ribbons for medals, and makes more than one million medals and 100,000 exhibitor numbers annually. The company's high quality, competitively priced products are made available through its catalogs and the internet to horse show managers, dog show managers, schools, sports and recreation, fairs/4-H and retail markets.
Hodges Badge Company employs over 150 dedicated and highly trained employees in its corporate office in Portsmouth, Rhode Island and factories in Washington, Missouri and Rhode Island. To learn more, visit http://www.hodgesbadge.com or call 800.556.2440.
For more information
Annette Schloemer
859.547.5521
###