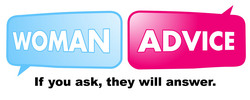 We definitely want to encourage some great advice from the women on our website and will provide them special expert status recognition for their great answers to the questions
Newport Beach, CA (PRWEB) June 30, 2010
Hey guys and girls, looking for some woman advice or even honest relationship advice? Well there's a new place on the Internet to visit and connect with your inner female while getting some valuable woman advice. Check it out today and find out what women really think at http://www.womanadvice.com.
"WomanAdvice.com is the social place online where men and women can connect with other women & men and get relationship advice, woman advice, men advice or even some great new sexy tips," said Nim Santo with WomanAdvice.com. "There's no other place on the web where you can ask for some woman advice and get honest answers to your heath, relationship, fitness, entertainment or fashion questions."
Based on the popular "answers" style website design popularized by major search engines, WomanAdvice.com gives members a chance to anonymously ask a question to the website's members and get valuable feedback, options or suggestions based on the question.
A WomanAdvice.com visitor simply needs to register at the site and then post a question. Regular members then respond to the question, providing their own woman advice or relationship advice to help out the question submitted.
"Any question is fair game at WomanAdvice.com," Santo said. "Not surprisingly, the first questions posted by members are revolving around relationship advice. But any woman advice issue is definitely welcome for discussion and advice at WomanAdvice.com."
There are a number of categories of questions and advice from women and men to explore at WomanAdvice.com. They range from career, college and dating all the way to travel, television shows and work. There are popular categories for friendships and parents as well as music and night life. Anything a woman can ask a question about and get some great feedback is covered at WomanAdvice.com.
"We tried to create some of the popular categories for all women, including entertainment, relationships, parents, school, work and friendships," Santo said. "But if we start getting questions that are not in an already created category, we will grow with our WomanAdvice.com members and start collecting questions and woman advice on that issue as well."
WomanAdvice.com also allows fellow visitors to become "experts" by providing the key relationship advice and woman advice answers to the member posted questions. Any registered member can also become an expert based upon the number of answers that they provide to submitted questions. However, they can also be awarded bonus expert points for providing "the best answer" to a particular question as rated by the question creator.
"We definitely want to encourage some great advice from the women on our website and will provide them special expert status recognition for their great answers to the questions," Santo said. "We welcome all women to visit the website and help ladies all over the world deal with their relationship and woman issues with some strong woman-to-woman advice."
For some extra woman advice, don't forget to check out the blog available on the website. It also provides an added opportunity to some website experts to showcase some of their great womanly advice. If you think you got the skills, you too can write to woman advice and may have your article published on their blog! The website also offers a few games to play that highlight the feminine life.
Best of all, WomanAdvice.com is free for users, but registration at the website is required. The website plans additional features in the future that create the ultimate web portal for woman advice and relationship advice.
Fans of the WomanAdvice.com can also promote the website on Facebook and it is also available in two foreign languages – Spanish and French.
For more information about WomanAdvice.com or to get some great relationship advice from fellow women, check out their website at http://www.womanadvice.com.
About WomanAdvice.com
For over 30 years Sigmund Freud, who founded the psychoanalytic method of psychiatry, tried to discover the greatest mystery of all time: "what do women want?"
WomanAdvice.com sets the stage to let both women and men answer this great riddle. Ask your questions and get the real answers. Check us out today at http://www.womanadvice.com.
Media Contact:
Nim Santo
womanadvice(at)gmail(dot)com
http://www.womanadvice.com
###