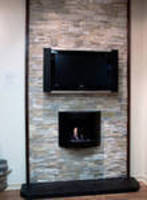 "Homeowners, contractors and architects can enjoy a greater flexibility when working on colour and texture coordination. Its lightweight composition simplifies project designs and provides significant savings in shipping and labour."
Toronto, Ontario (PRWEB) June 30, 2010
Stone Selex Introducing Panel Style Thin Cut Natural Stone Veneer Siding
Jerry Lebiedzinski, the president of Stone Selex – a premier supplier of manufactured and natural stone veneer siding, announced the introduction of a new line of thin cut quartzite stone veneer to their product line portfolio .This new line of natural stone veneer, available in many attractive colours (Snow White, Midnight Black Rustic, Ivory or Oyster Shell) offers customers thin cut, lightweight natural stones suitable for both interior and exterior applications.
Perfect for contemporary designs, only ¾" thick, this stone line is ideal for projects where minimum thickness and weight is required for technical purposes (i.e. limited room sizes, width of hallways, radius of curve of wall).
With this new stone veneer panels, the president of Stone Selex ads, "Homeowners, contractors and architects can enjoy a greater flexibility when working on colour and texture coordination. Its lightweight composition simplifies project designs and provides significant savings in shipping and labour."
Because of their light weight, quartzite stone veneers are more manoeuvrable. You can put them anywhere in your house without disturbing the foundation and footings and without requiring structural reinforcing.
Finding the right stone veneer supplier
If you've decided to reap the rewards of using stone veneer panels, you're not out of the woods yet. Some artificial stone manufacturers cut corners and leave you with veneers that waste away in bad weather or deteriorate after a year or two. Top-quality stone veneers shouldn't just mimic the real thing in appearance; they should mimic a natural stone's durability. That's why you need a manufactured and natural stone supplier you can trust. In Ontario and Quebec, no company fills that role better than Stone Selex.
Introducing the standard for stone veneers.
What separates Stone Selex from the competition? In a word, reliability: The Stone Selex staffers carefully select stone manufacturers known for producing durable and weather-resistant products. They've cultivated such a sturdy product that they offer an industry-leading 50-year warranty on every manufactured stone they carry plus Stone Selex offers natural stone with life warranty…so you can have greater flexibility in your choice.
Stone Selex is based in the Greater Toronto Area and works with clients throughout Ontario, from Ottawa and Cornwall, to Sarnia and Windsor (Tecumesh, LaSalle, Lakeshore), to Thunder Bay. We offer standard delivery to all Ontario cities including St. Catharines, Niagara Falls, Welland, Burlington, Hamilton, Oakville, Milton, Mississauga, Port Credit, Georgetown, Brampton, Bramalea, Etobicoke, Toronto, Willowdale, North York, Scarborough, Woodbridge, Maple, King City, Concord, Richmond Hill, Markham, Unionville, Stratford, Oshawa, Whitby, Clarington, Acton, Erin, Kitchener, Waterloo, Cambridge, Guelph, Brantford, Brant, Brockville, Woodstock, Barrie, Carp, Innisfil, Midland including Tay and Penetanguishene, Orillia, Ramara, Leamington including Kingsville, Sudbury, Chatham, Kent, London, Kingston, South Frontenac, Peterborough including Smith-Ennismore-Lakefield, Belleville, Cornwall, North Bay, Sault Ste. Marie, Kawartha Lake, Muskoka, Norfolk, Timmins, Owen Sound, and many more.
What Stone Selex does for you
With Stone Selex outfitting your home, you'll be the envy of your neighbourhood. Build that island you always wanted in your kitchen and make it look like a real island. Transform your bar, chimney or stone fireplace into one that's suitable for a castle; your castle.
Looking to up your home's resale value? No problem. Through Stone Selex's constantly updated offerings like Great Stone or Canyon Stone, which produces exact replicas of natural stone or quartzite stone veneer and natural stone slate; you'll maximize your home's selling value.
# # #