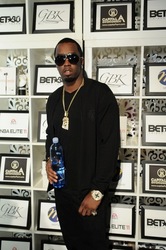 Los Angeles, CA (Vocus) June 30, 2010
To pay tribute to 30 Years of BET and the 10 Year Anniversary of the [BET Awards], GBK filled the lounge with many memorabilia gifts personalized with the BET Logo including a special 30th Anniversary BET Barbie (also celebrating Rocawear's 10th Anniversary), created by Mattel Inc.; Swarovski crystal 30th Anniversary BET business card holders by Crystalninja.com; custom sneaker jewelry including pieces with the BET Logo, as well as rosary necklaces, by Luxury Laces; and universal TUMI chargers gifted by Presenting Sponsor Capital A Entertainment. Capital A Entertainment also included an invite for the top talent to attend their exclusive parties at some of the hottest upcoming events like SuperBowl and NBA All Stars.
Other great items included a selection of at home hair care from one of the Presenting Sponsors of the lounge, Motions Hair Care. Patti LaBelle was overheard saying, "I love this product" while receiving her gift set. Team jackets including well known L.A.-based teams like the Dodgers and Lakers from JH Design Group; a week vacation at one of many Five Star Resorts through Caribbean Living Magazine; head phones by Ultrasone; designer sunglasses including Fendi, Michael Kors, Karl Lagerfeld and Pucci provided by Marchon Eyewear; custom diamond or crystal enhanced Casio G Shock watches by DiamondGShock.com; custom-made shirts from Astor & Black Custom Clothiers; and Bullets 4 Peace necklaces were all prominent features of the lounge. Electronic Arts Inc. was also a highlight and in support of EA Sports NBA Elite 11, EA gifted custom laser engraved PS3 gaming systems that were packaged within a custom branded case. Ron Artest, Nicki Minaj, and many others had a blast playing these games right in the lounge.
The bar sponsor for the lounge was Adult Chocolate Milk, one of the hottest drinks to hit 2010, and quickly became a favorite of guests as they got a chance to 're-taste their youth. At 40 proof'. Celebrities also quenched their thirst with drinks from Monster Energy Drinks, Smart Water and Starbucks. To satisfy their sweet tooth, Southern Girl Desserts had a variety of cupcakes.
Always a favorite at GBK Lounges, Revitalash was on site showcasing their full line of products; Dermera provided their natural and organic acne treatment products; Kangol Headwear offered a selection of hats; shave gels and aftershaves provided by Bump Patrol; hair straighteners from ISO Beauty; and fragrances like Queen by Queen Latifah, and ECKO by MARC ECKO were also some of the goodies provided for BET VIP guests.
Other additions included a $1,000 gift certificate from The Apartment to go to their studio and pick out the fashion or beauty item of their choice; Jewelry from Vita New York; a selection of denim attire and sweats from Akademiks; a must-have sleek Grande Train Case and chic 'IT' bags from Caboodles; and a 3D Virtual Island for the performers and artists to host live events and merge social media platforms within a revolutionary 3D website from GBK and VirtualCelebrityIslands.com
Malaika for LIFE was onsite promoting awareness for Malaria and the fact that the purchase of their $10 bracelet can Save A Life. Their story pulled at many of the celebrities hearts to the extent that El Debarge, Esperanza, Dirty Money, Waka Flocka Flame, Slim Thug, Young Money, and Queen Latifah's mom gave cash donations to support the cause. Others wore the bracelets on stage to continue the awareness campaign, including Esperanza during the Tribute to Prince.
The GBK and BET Talent Lounge was the talk backstage amongst many of the guests, and was a great way to celebrate BET's 30 years of quality entertainment and their 10th Anniversary of the BET Awards.
GBK, formerly GBK Productions, is a luxury lifestyle gifting and special events company, specializing in entertainment marketing integration. Formed in 2000 by Gavin B. Keilly, the company's Founder and CEO, GBK consists of five divisions: GBK Celebrity Gifting Lounges; GBK Events; GBK Weddings; GBK Charitable Consulting; and GBK Marketing/PR. Widely known in the entertainment industry for bringing that little extra something into the Gifting Lounge environment, GBK offers its clients a full range of marketing services. For more information on Gavin B. Keilly (CEO), Carla Domen (VP) or GBK, please go to gbkproductions.com.
# # #