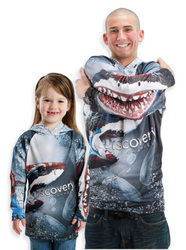 What could be better than getting to pretend to be a shark yourself?" says Mouth Man designer Dave Williams.
Benicia, CA (PRWEB) June 30, 2010
Mouth Man LLC has created a limited-edition hoodie shirt featuring the greatest shark of all, the Great White, in celebration of Discovery Channel's Shark Week; an annual week-long television series dedicated to everything sharks.
A great white shark "chomps" Discovery Channel's distinctive logo amidst swirls of ocean blue and gray on the front of the hoodie shirt and changes to reveal a roaring open mouth when the wearers' arms cross at the elbows-- Mouth Man's famous signature design. The hoodies come in child sizes 2T-14 and adult sizes S-XXL and will be available on Discoverystore.com.
"These interactive shirts will be awesome for Shark Week, the perfect way to get viewers even more interested in the programs and sharks themselves. What could be better than getting to be a shark yourself?" says Mouth Man designer Dave Williams.
Mouth Man LLC and the Discovery Channel have partnered since 2009 when Mouth Man started selling its animal-themed hoodie shirts on the Discovery Channel's Animal Planet website. These breathable, jersey-type polyester hoodies all sport unique, patented designs that form animated animals when the wearer's arms cross.
The hoodie shirts come in 12 designs, including velociraptor "raptor", tyrannosaurus rex "t-rex", shark, orca whale, cobra, frog and more. All styles can be viewed online at the Animal Planet tab on discoverystore.com.
All styles can be purchased on the Animal Planet tab at discoverystore.com. The shirts is available for order as of June 29, 2010.
Media Contact:
Mark Sandoval
mark(at)mouthman(dot)com
707-751-3888
###