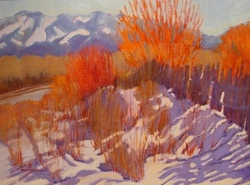 Building on a concept created by the Taos Institute of Art 15 years ago, Taos Art Experiences is not just an art class or workshop - it is a chance to experience what is sacred about Taos, through the eyes of an artist.
TAOS, NM (Vocus) June 30, 2010
For centuries, renowned artists have been painting, sculpting and weaving their interpretations of the many sacred places in Taos, New Mexico - which is why Taos is one of the most revered art colonies in the world. That's why, in July, Taos Art Experiences (TAE) is providing an explosion of opportunities, for those interested in the Taos art experience, to learn from art techniques directly from the best of Taos' accomplished and nationally recognized artist-instructors.
"Building on a concept created by the Taos Institute of Art 15 years ago, Taos Art Experiences is not just an art class or workshop - it is a chance to experience what is sacred about Taos, through the eyes of an artist, where creativity is sparked and spirituality is renewed," said TAE Director and Taos Art Gallery owner, Jan Mellor. "The TAE allows students to create a bond with the artist and Taos. It is also our goal to have them experience the insider's view of Taos rather than see it from the outside, just like Georgia O'Keefe and other artists did decades ago."
This is the first year TAE is being offered to students of all skill levels from Taos artist-instructors. Students are invited to spend nearly a week of one-on-one time with the artist of their choice, in a medium of their choice, while experiencing Taos the way many artists did in the past.
According to Mellor, several of the artists who will be teaching the experiences were once in the student position themselves, at the Taos Institute of Art. Some, like artist Mary Ann Warner who will teach "Plein Air" from July 11 through 16, moved to Taos after her initial encounter in its creative environment.
"I began painting plein air after moving to Taos...there is nothing comparable to being out in nature, exposed to the elements in the dramatic southwest and painting the Mother Earth," said Warner. "Each piece is a journey unto itself."
Students will meet in a variety of locations, depending on the chosen experience. Each experience is fluid and custom tailored to each student's needs. Participants will leave with a broader experience than they would with a standard art class or workshop.
Beginning on July 11th and continuing every Sunday prior to the start of the experiences, a "welcome" reception will be held from 5 p.m. to 7 p.m. at the Taos Gallery.
A schedule of TAE experiences for the month of July are as follows:

July 11-14: Artist's Way Creativity Camp with James Nave. Nave will help participants foster a more creative life by telling their stories better, gaining spiritual insights and artistic inspiration. Nave has co-produced the "Artists Way" creativity camp for six years. Limited space available.
July 11-16: Plein Air with Mary Ann Warner. Warner will help participants learn how to take what we see and apply that to make an oil painting focusing on form, pattern, color and
composition. Warner's work was recently chosen for the NM Art in Public Places program and
is represented by the Taos Gallery.

July 11-16 Plein Air of Sacred Spaces with Richard Alan Nichols. Nichols will take participants on a variety of "sacred places" locations where creativity will be nourished, and an understanding of "lighting" will be gained. Nichols graduated from the American Academy of Art in Chicago and is an award winning artist, represented by the Blumenschein Gallery.
July 11-16 Exploring the Creative Process with Paul Pascarella. Pascarella will focus on going beyond thinking and tapping into the inner self to reach spontaneity. Pascarella's work is nationally recognized throughout the country.
July 11-16 Tin and Copper Smithing Taos with Marion Moore. Moore teaches students to be resourceful and imaginative in creating decorative art using metal. Moore owns Taos Tin Works and her art is one of 25 artists exhibited in the Smithsonian, along w/ the State Capitol.
July 11-16 Watercolor with Joan Fullerton. Fullerton will help participants embrace "magic" and a sense of adventure, which is fuel for art with watercolors. Fullerton studied watercolor with Edgar Whitney, Frank Webb and other nationally known painters. She has a BFA and MFA from the University of Wyoming.
July 18-23 Art of the Song with John Dillon and Viv Nesbitt. Nesbitt and Dillon explore the authentic, creative voice through meditations, writing, songwriting and more. The Art of Song Radio was created by Dillon and Nesbitt and is heard on 200 radio stations across the U.S.
July 18-23 The Art of Peace, Creativity and Soft Pastel with Issa De Nicola. Nicola combines pastel painting with meditation and energy work. St. Francis Assisi Church will be a focal point in the process. Nicola is an award winning artist in acrylic and pastel.
July 18-23: Creative Intuition and Mixed Media with Randall La Gro. La Gro will teach painting techniques including design, color, balance, concept and more. Please bring materials to work with and objects or memorabilia for collage.
July 18-23: A Personal Journey - Desert, Mountains, Rivers and Valleys photography tour with Geraint Smith. Smith will share ways to create a personal view of landscape, people and places. Bring hiking shoes, rain gear to explore both new and familiar areas of Taos.
July 18-23 Personal Myth and Ceramic Archetype with Steven Gootgeld. Gootgeld uses clay to explore personal myths about who we think we are. Explore clay and the self. Gootgeld in an award winning artist and has been recognized as a Living Master in ceramics.
Registration fees range from $300 to $600 for the multi-day experiences, which includes materials for most classes. All prices include a $50 non refundable registration fee. Partial payments can be made in advance, with the remainder of payment due at the end of the week. Secure registration can be done online at http://www.taosartexperiences.com. Additional art experiences in August are also available. Visit taosartexperiences.com for details.
Taos Art Experiences is located at 133 Bent Street in Taos. For more information, call Jan Mellor, Director, at jan(at)taosartexperiences(dot)com or call (575) 758-3911.
About Taos Art Experiences
The mission of Taos Art Experiences is to nurture creativity in teh spirit of the legacy of the Taos Institute of Arts.
Contact:
Erica Asmus-Otero
(505) 259-2202
Erica(at)griffinassoc(dot)com
# # #
###