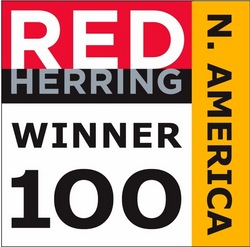 Choosing the companies with the strongest potential was by no means a small feat
San Mateo, CA (Vocus) June 30, 2010
CFN Services, a world-class low latency managed network infrastructure provider, has been named a winner of the Red Herring 100 North America awards for 2010. The award, whose past winners include Google, Yahoo!, Facebook, Twitter and Salesforce.com, is given to companies demonstrating the ability to disrupt an industry or create an entirely new industry via an innovative business model. The Red Herring 100 North America has become a mark of distinction for identifying promising new and emerging companies.
"Choosing the companies with the strongest potential was by no means a small feat," said Alex Vieux, publisher and CEO of Red Herring. "After rigorous contemplation and discussion, we narrowed our list down from hundreds of candidates from across North America to the Top 100 Winners. We believe CFN Services embodies the vision, drive and innovation that define a successful entrepreneurial venture. CFN Services should be proud of its accomplishment, as the competition was very strong."
"Winning this award is both an honor and a validation to the vision of CFN Services of being a leading world-class Low Latency Global Infrastructure provider. CFN values itself on providing a result only work environment and hiring only the best and brightest in their field. The combination of our Low Latency Global Infrastructure, FiberSource® knowledge based platform and our employees are what really differentiates CFN Services in the infrastructure provider space. " said Mark Casey, President, CFN Services
Red Herring's editorial staff evaluated the companies on both quantitative and qualitative criteria, such as financial performance, technology innovation, management quality, strategy, and market penetration. This assessment of potential is complemented by a review of the track record and standing of startups relative to their sector peers, allowing Red Herring to see past the "buzz" and make the list a valuable instrument of discovery and advocacy for the most promising emerging growth companies in North America. Since the awards program was launched in 1996, the Red Herring 100 lists have been used by technology industry executives, investors and strategists as an instrument for discovering and advocating the most promising private ventures from around the world.
About Red Herring
Red Herring is a global media company, which unites the world's best high technology innovators, venture investors and business decision makers in a variety of forums: a leading innovation magazine, an online daily technology news service, technology newsletters and major events for technology leaders around the globe. Red Herring provides an insider's access to the global innovation economy, featuring unparalleled insights on the emerging technologies driving the economy. More information about Red Herring is available online at http://www.redherring.com.
About CFN Services
CFN Services is a managed telecom infrastructure services company providing network services for the Enterprise, Public Sector, Carrier and Wireless Markets, specializing in ultra-low latency networking, middle mile and last mile optimization and mobile backhaul. CFN Services leverages FiberSource®, a global knowledge-based platform that identifies all available dark and lit fiber, collocation, towers, structures and lit buildings; providing network design, planning, deployment, and managed services offerings. For more information http://www.cfnservices.com
# # #