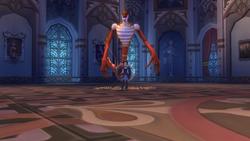 Players will advance their character, and experience all-new content, in addition to summoning some of the baddest beasts to battle in-game.
Los Angeles (PRWEB) June 29, 2010
Gamepot USA brings the next content expansion, Episode II, to Bright Shadow, its inspired, free-to-play massively multi-player online role-playing game. With the previous expansion, players were introduced to the all-new continent of Abraxia, a strange and wondrous land with areas unexplored. Bright Shadow Episode II conjures epic new adventures for players to experience, from new monsters to battle and summon, to exciting new high-level rewards and a brand new set of quests that must be played to be believed. Also featured in Episode II are a third tier of prestige classes, enhancing an already deep class system to over 21 possible paths of destiny.
"Bright Shadow's continued expansion is a true landmark for players, as they'll have the chance to advance their character, and experience all-new content, in addition to summoning some of the baddest beasts to battle in-game." Says Thomas Lee, Senior Director of Business Development. "We look forward to seeing players partake in the latest adventure."
The new regions of Abraxia transport players into 12 all-new zones, filled with quests and fearsome Umbra, including the uncharted deserts of inner Abraxia the town of Mirage Oasis, the Cursed Desert, the immense Mystique Pyramid, and aptly named Death Valley. Players will also find five new and deviously challenging dungeons: Amethyst Cave, Waterfall Tunnel, Sandfall Maze, Underworld Castle, and Vampire Castle. Players can also look forward to a raised level cap from level 70 to level 99, where exhilarating endgame content awaits! As they progress through Episode II, players will be able to study and master new specialties: the third level of class advancement will unlock new abilities and powers for all classes. From Paladins to Magi to Soul Masters, players are sure to experience a new level of power. With Episode II, Luciena's war against the evil Umbra will continue to be exciting for new and old players alike!
Aspiring adventurers are encouraged to check out Gamepot USA's Bright Shadow website, http://brightshadow.gamepotusa.com/ and the Facebook page at http://www.facebook.com/#!/pages/Bright-Shadow/146203295844?ref=ts
About Bright Shadow
For more than a century, the peaceful civilization of Luciena has known the mysterious properties of "Soul Power" – an entity that exists within every facet of the universe, in all sentient beings, that can be used for benevolence or manipulated for evil. However, deep within the Umbra Realm, nefarious beings seek to use the Soul Power to enslave, oppress and kill others; believing death is the only path to unlocking its true potential. After enduring countless attacks at the hands of the Umbra, the people of Luciena have dedicated themselves to the study of Soul Power to use it as a weapon against their enemies. Now with the battle lines drawn, an epic war has begun, with total control of Soul Power hanging in the balance.
Like all Gamepot games, Bright Shadow is a 100% free-to-play experience with the option of purchasing special in-game items. For more information, please visit http://brightshadow.gamepotusa.com/.
About Gamepot (USA), Inc.
Gamepot (USA), Inc. is the U.S. publishing division of Gamepot, Inc., one of Japan's top gaming firms. Opening its Los Angeles office in August 2008, Gamepot (USA), Inc. is dedicated to providing the best games free of charge, and invites all players to "Taste the fun". Gamepot has a full course meal of fun, fulfilling games slated for North America and beyond. For more information, please visit http://www.gamepotusa.com
Bright Shadow Official Site
http://brightshadow.gamepotusa.com/
Bright Shadow Facebook site:
http://www.facebook.com/#!/pages/Bright-Shadow/146203295844?ref=ts
Bright Shadow Twitter:
http://twitter.com/brightshadowmmo
Bright Shadow Youtube:
http://www.youtube.com/user/BrightShadowMMO#p/u
###