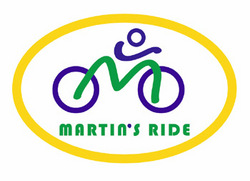 Together we cure cancer in our lifetime.
Durham, NC (PRWEB) June 22, 2010
Martin's Ride is cancer and Multiple Sclerosis survivor Martin Smith's bicycle ride across the United States to raise awareness and money to benefit cancer research at the Duke Comprehensive Cancer Center. Cancer research nears a critical tipping point as The American Association for Cancer Research's It's Our Time video explains. Mr. Smith's life was saved by cancer researchers, doctors, nurses and administrators; people Mr. Smith has never met.
Mr. Smith's cancer is under control thanks to chemotherapy. "Do things NOW is one lesson learned after hearing cancer and my name in the same sentence," Mr. Smith explains. Mr. Smith wants to give back, to say thanks to the doctors, nurses, researchers and fellow patients who helped save his life. "I resurrected a long delayed dream to ride a bicycle across the country," Mr. Smith shared. Martin's Ride hopes to raise $50,000 for cancer research by the time Mr. Smith reaches Los Angeles at the end of August.
Creating community is another Martin's Ride goal and Mr. Smith's two-person team knows how to get creative. The Martin's Ride team created a Free Lunch for Cancer program trading blog posts for food. Restaurants providing free lunches, as Martin's Ride travels across America, earn features in daily blog posts and videos. People can join Martin's Ride Facebook group and follow @MartinsRide on Twitter.
The Martin's Ride team includes Jeremy Sadler, former Manager of The Bicycle Chain store on Franklin Street in Chapel Hill and Brian Russo, a Colby College student. Martin's ride will reach out to local bicycle shops encouraging customers to ride with Martin and the team when Martin's Ride comes to town.
Martin's Ride begins by meeting Duke Cancer Center doctors, nurses, researchers and administrators on Tuesday morning June 29th from 7 am to 8 in the morning in front of Duke's Morris Cancer Clinic followed by a first day fifty mile bicycle ride to Greensboro. Cancer Center Director H. Kim Lyerly, MD, and cancer researcher Lee Jones, PhD will ride with Martin on the first day followed by a reception at the Greensboro Country Club. "Together we cure cancer in our lifetime," Mr. Smith concluded.
###