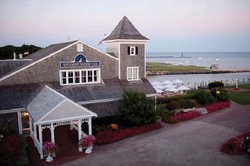 Wychmere is a jewel on Cape Cod with its simple solitude, vintage views and magical history -Jim Apteker
Boston, MA (PRWEB) June 1, 2010
Longwood Events founder Jim Apteker, along with fellow investors Jeffrey Leerink and Demetri Dasco a/k/a Wychmere Harbor Real Estate LLC, announced today the purchase of Wychmere Harbor Club in Harwichport, Massachusetts. The Cape Cod acquisition rounds out Longwood Events' growing event destination portfolio comprising State Room in Downtown Boston, Veronique in Brookline and Belle Mer in Newport, Rhode Island.
One of Cape Cod's oldest and most prestigious private clubs, the Wychmere Harbor Club property spans nearly 20 pristine acres along Wychmere Harbor Channel and Nantucket Sound, replete with private beach, tennis club, function rooms, private residences, boat dockage and swimming pools.
"Wychmere is a jewel on Cape Cod with its simple solitude, vintage views and magical history," says Jim Apteker, owner of Longwood Events. "Our restoration plans seek not only to preserve its legacy for future generations but create wonderful, new experiences, opportunities and jobs for the community of Harwichport."
Wychmere Harbor Club is set to undergo a major restoration and eco redesign spanning several off-season months. Longwood Events brings an unmistakable track record of honoring the soul of each of its venues while understanding the essentials of creating memorable event experiences. "We are a lifestyle company," says Alina Apteker, co-owner of Longwood Events. "We'll bring Wychmere our hospitality instinct and visionary design to breathe new life into an already magical place and talented community." Longwood's development and investment partner, Demetri Dasco of Atlas Investment Group, expects to sell what few residential units remain on the highly desirable Wychmere property.
Back in 2004, Longwood Events purchased The Regatta Club, investing $3 million and nearly doubling its size. Today, Belle Mer is one of the most sought after wedding and special event destinations in Newport, attracting the region's most prestigious events and global media attention (See Photo: Belle Mer featured on Gala Wedding Magazine cover).
Further details of Wychmere Harbor Real Estate LLC's plans for Wychmere will be released as they become final. For further information on the acquisition and future plans of Wychmere Harbor Club in Harwichport, please contact Diane Mantouvalos at (617) 416-4897 to request interview with one of its investors.
Read Boston Globe Feature Story on Wychmere: "Luxury Returns to the Cape" - Robert Preer
ABOUT WYCHMERE HARBOR REAL ESTATE LLC. PARTNERS:
Jim Apteker is the owner of Longwood Events Corporation in Boston
Jeffrey Leerink founded Leerink Swann of Boston in 1995, where he serves as Chairman and CEO
Demetri Dasco is Founding Member of Atlas Investment Group in Boston.
ABOUT LONGWOOD EVENTS:
Longwood Events is New England's leader In Bespoke Events & Lifestyle Venues for Destination Weddings, Meetings, Corporate Retreats and Special Events. Longwood's Destinations include State Room atop 60 State Street in Downtown Boston, Veronique in Brookline, Belle Mer in Newport, RI and Wychmere Harbor Club in Harwichport, MA.
###