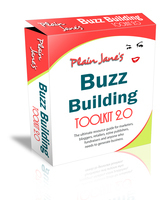 "It's surprising that more companies aren't capitalizing on buzzmarketing, especially in this economy", stated Jane Tabachnick, the not so plain jane behind the Buzz Building Toolkit.
Montclair, NJ (PRWEB) June 29, 2010
A recent survey found that 78% of consumers prefer buzzmarketing to advertising, yet most companies are ignoring these customers; they are not capitalizing on the trend despite consumer penchant, ease and affordability of implementation. The new Buzz Building Toolkit aims to set companies on the preferred, more profitable path!
Buzzmarketing is defined as word of mouth marketing, viral marketing or marketing by recommendation. It also refers to the excitement around a company or product. Social media has made it even easier to share that excitement, facilitate recommendations and viral marketing campaigns and do so much more quickly; a few strategically placed tools on your site or blog invite your customers to share their enthusiasm for your company, effortlessly with one click. Social media has also helped to keep campaign costs nominal for buzzmarketing campaigns.
So why aren't more companies using buzzmarketing, especially as its the most affordable strategy with the biggest ROI? Companies are often unaware of how to go about creating buzz on their own, even though it is easily learned by anyone.
"The problem is that most business owners just don't know how or where to begin, even though it's pretty simple once you understand the concepts", stated Jane Tabachnick, a marketer who has been mentoring business owners for over 15 years. "I created the Buzz Building Toolkit to help them create their own successful campaigns, easily and afford ably without needing a marketing department."
The Buzz Building Toolkit is made up of a simple system including:

Written manual
Video trainings
Resource guide
Inspiring examples
Fill in the blanks worksheets
Sample plans and campaigns
The Buzz Building Toolkit is available online at http://www.thebuzzbuildingtoolkit.com. It costs $149 and can be downloaded immediately after purchase. It covers the secrets of word of mouth marketing and the abc's of publicity. It has lots of inspiring examples and tools so that anyone can quickly learn to put together creative buzzmarketing campaigns that get results.
About The Company
Plain Jane's Marketing was founded by Jane Tabachnick, creator of The Buzz Building Toolkit. For over 15 years, Jane and her team have been creating successful marketing campaigns, creating buzz and launching products for clients large and small. They offer a full range of services as well as client coaching.
Plain Jane's Marketing is also offering a free report entitled The Top Ten Tools for Building Buzz which you can get by visiting their website at http://www.plainjanesmarketing.com
###