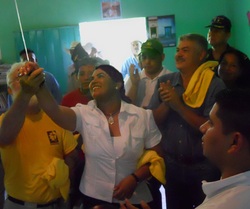 How could I miss an event as important as this one in the development of our communities?
Cincinnati, OH (PRWEB) June 29, 2010
On June 8, 2010, a helicopter flew Honduras' First Lady, Rosa Elena de Lobo, to the small rural village of El Trapiche where Cincinnati-based international missionary organization SonLight Power, Inc. (SLP), was preparing to install a solar energy system in the one-room community school building. The First Lady assisted with raising the solar panels and pulled the cord to light the schoolroom for the very first time. She also spoke to the assembled village leaders, residents and SonLight Power volunteers. The First Lady's visit was a direct result of SLP's recent recognition by the United States Embassy in Honduras for "outstanding achievements in renewable energy development and promoting greater education and interest in developing clean, alternative energy" in that country. To date, SonLight Power has installed solar energy systems in fifty-six Honduran schools.
Three years ago, SLP had installed solar energy systems in more than twenty Honduran schools when the Office of the First Lady asked the organization to help with the Honduran Healthy Schools Program. There were still an estimated 400 schools without access to grid electricity in remote areas of the country, and the Healthy Schools Program was able to assist SonLight Power with logistics and customs fees exoneration. Then in March 2010, Rainey met with senior staff in the Office of the new First Lady de Lobo to discuss how best to coordinate the completion of this project. A partnership was established with the Polytechnic University of Engineering (UPI) allowing students to receive hands-on experience with solar energy systems. In turn their assistance makes it possible for more installations to be completed and in less time. The first joint installation took place in the municipality of Namasigüe, Choluteca in March.
At the June 8th installation in El Trapiche First Lady de Lobo remarked, "How could I miss an event as important as this one in the development of our communities? All of us pledge our commitment to a better education for our children….and the doors are being opened for all these young people. What is exceedingly important to me is the U.S. Embassy's recognition of this work by awarding the prize for renewable energy to Honduras for our commitment to renewable energy. All these projects are being managed by Healthy Schools, because we now have a framework. We know community is a top priority for us." She went on to thank SLP founder/executive director Allen Rainey for helping "our people have a better vision for what the whole world is."
Honduran schools benefit in several ways. Students and teachers experience illuminated classes for the first time, as well as lighted kitchens to assist with school lunch preparation. Each project enables the use of multimedia teaching equipment such as TVs, DVD players, and computers. School operational hours can be extended past daylight, broadening educational opportunities and increasing earnings potential for households throughout the surrounding municipality. Beyond enhancing the educational experience, SLP teams engage with students and community members to promote wellness and goodwill during visits.
Established in 2002, SLP makes a difference by installing solar energy systems that generate sustainable, renewable electrical power for more than thirty years. In most cases, SLP teams, all volunteers, can install a 300-watt solar energy system for a three-classroom school within five hours. The cost of the solar panel and equipment is approximately $3,500. Since its founding, SLP and SLP-trained teams have installed solar energy systems in schools, orphanages and medical clinics in Ecuador, Guatemala, Mexico, Haiti, Ethiopia, Kenya and Rwanda. In addition, numerous missionaries around the world have purchased equipment from SLP at wholesale prices and/or participated in SLP Training.
For more information about SonLight Power, Inc., its current projects, sponsors and how to contribute to its mission, visit their website, http://www.sonlightpower.org.
###