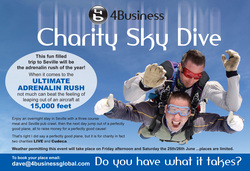 One minute freefall from 5000m altitude for a good cause - our charity jump supports Cudeca and L.I.V.E.
(PRWEB) June 5, 2010
On June 26th the outdoor adventure sports company Team Xtreme, that primarily operates in Andalusia organizes jointly with the 4B business networking group a charity skydiving event in Seville.
The collected funds will go to the L.I.V.E. foundation ( a charity that helps people that have nothing and nobody) and Cudeca charities ( a cancer hospice in Malaga) . The networking members will take advantage of the trip to strengthen the networking ties among the group, tour the city of Seville and of course experience an extraordinary adrenaline rush jumping from a plane at 5000m altitude and going into a one minute freefall.
###