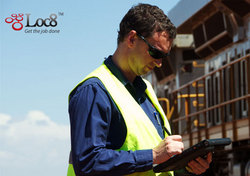 "The solution we have provided to Rio Tinto Iron Ore is leading edge. Technicians can remotely receive new faults or raise and complete them themselves when they are far from their base in the remote Pilbara" - David Hodges, CEO, Smartpath Software
Sydney (PRWEB) July 30, 2010
Smartpath Software, developers of the class-leading Loc8 asset management software, have risen to the challenges placed on it by Rio Tinto Iron Ore to keep the trains rolling.
On a recent engagement with the operator of one of the world's largest privately owned rail networks, Rio Tinto, Smartpath was faced with having to manage the tracking and dispatch of faults across a network that stretches of 2000km, with little or no mobile coverage and technicians being offline for days on end. With satellite communication not an option, Smartpath implemented its new tablet PC edition of Loc8, complete with online / offline synchronization, GPS tracking & mapping, and full asset management functions.
The tablet edition, combined with Loc8's powerful help-desk and work order management features, allows the network operations center for the railway, located some 1200km away from the actual rail operations, to actively lodge an array of faults and dispatch them in real-time to technicians right across the network.
"The solution we have provided to Rio Tinto Iron Ore is leading edge. Technicians can remotely receive new faults or raise and complete them themselves when they are far from communications in the remote Pilbara, while keeping to the standards enforced by Rio Tintio's SAP installation." explained David Hodges, CEO of Smartpath Software. "The deployment of Loc8 with our new tablet PC version allows the technicians to access unprecedented asset management and maintenance management functions from wherever they are. Gone is the paper trail and administration headache."
As a result of managing these challenges, Smartpath has been engaged by two other rail operators to help solve their similar problems and Smartpath has released it's vertically targeted Loc8 OnTrack solution.
With Loc8 OnTrack, Smartpath gives rail operators an amazing fault & network maintenance tool. Its specialist rail operations team provides a product tailored to the complexity & technicality of the rail operator. As a result, it is used by some of the largest rail networks. Loc8 OnTrack helps rail operators with:

Rail asset management & maintenance
Fault management & tracking to resolution
Delay accounting for delays resulting from faults
Locomotive, rolling-stock, signals, level-crossing, & track maintenance (preventative & reactive)
Network assets, allowing system "chains" for fault impact analysis & delay management
In-field technician mobility & real-time, remote job dispatch
RFID tracking of locomotives, rolling-stock and sub-components, such as axels
Integration to enterprise reporting, such as SAP & Oracle
Loc8 is the next evolution of asset management & field service management software, giving small, medium and large enterprises unprecedented operational control, maintenance, and tracking of their assets.
For company information, please visit: http://www.smartpath-software.com or via http://www.twitter.com/smartpath.
About Smartpath
Founded in 2001, Smartpath publishes Loc8, a web 2.0 asset, maintenance, helpdesk and mobile workforce management software solution.
Headquartered in Sydney, Australia with offices in Melbourne, San Francisco, CA and Plano, Texas, Smartpath works across all industries, predominantly engineering, health, IT, petro-chemical, resources, manufacturing, transportation, building and construction and government.
Customers include Rio Tinto, ARA Group, Brookfield Multiplex, Spotless, Spastic Centre, Cue Clothing, Department of Human Services, Spotlight Stores, William Angliss TAFE, Nortel Networks, St John's Grammar, and Microsoft.
# # #