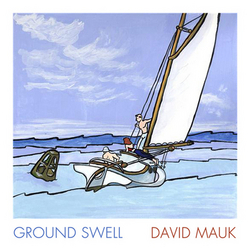 When the first waves of sound reached my ears, I was instantly "swell-bound." With Ground Swell, Mauk casts a spell that lasts long after the final note fades away. This is truly must-hear listening. Raj Manoharan
Las Vegas, NV (PRWEB) July 26, 2010
Keyboardist/Composer David Mauk marks the release of his new album "Ground Swell" by giving fans the opportunity to download selected tracks for free. For a limited time only fans can receive 6 Tracks from David's first CD "12 Months" absolutely free by signing up for The Official David Mauk Newsletter. Besides receiving free music, members will have the opportunity to take advantage of additional new music downloads, David's Blogs and news, fan club merchandise specials, pre-show announcements, videos, exclusive newsletter-only contests and more.
"Ground Swell", David's second album contains 14 songs based on the art of his favorite painter, 20th Century American artist, Edward Hopper. The CD combo-package also includes a DVD containing 5 music videos created using black and white public domain footage from the same time period that Hopper was capturing America in his paintings.
David Mauk is a composer/performer from Ohio now living in Las Vegas, composing by day and working at night as a Vegas musician. David is no stranger to composing music on a grand scale. He has composed and performed the background music for the international "Tutankhamen & The Golden Age of the Pharaohs", "Cleopatra - The Search For The Last Queen of Egypt" and "Real Pirates" museum exhibits. His music has been heard by over 10 million people in several venues around the globe including The Los Angeles County Museum of Art, The Ft. Lauderdale Museum of Art, The Field Museum in Chicago, The Discovery Times Square Exposition in New York City, The O2 in London, England, and the Kunst Historisches Museum in Vienna, Austria. His King Tut music has also been heard on CNN. Current museum events include the King Tut Exhibition now open in New York City and Denver. The King Tut audio tour features David's music with a voice-over by Harrison Ford and Omar Sharif. The newest exhibit, "Cleopatra-The Search For The Last Queen Of Egypt" opened to rave reviews and can be seen at the Franklin Institute in Philadelphia, PA through January 2011.
David's first album of ambient music "12 Months" on Thera Records was nominated for "Best Electronic Album" and "Best New Artist" at the Zone Music Reporter awards.
To receive your Free Music, just go to http://www.DavidMauk.com and sign up for David's newsletter and we'll send you a special redemption code to download your music free of charge.
Ground Swell CD Track Listing
1. Dawn In Pennsylvania
2. Summertime
3. Ground Swell
4. Chop Suey
5. Second Story Sunlight
6. Western Motel
7. Chair Car
8. Queensborough Bridge
9. Seawatchers
10. Cape Cod Evening
11. New York Movie
12. Railroad Sunset
13. Gas
14. Drug Store
DVD - Music Videos Track Listing
1. Dawn In Pennsylvania
2. Summertime
3. New York Movie
4. Queensborough Bridge
5. Chop Suey
# # #