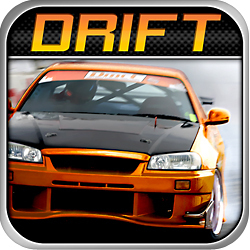 It was very exciting to collaborate with Ratrod Studio on this project. We have been able to develop this adrenalin-packed drift game that everyone has been waiting for!
Ottawa, ON (PRWEB) July 7, 2010
Ratrod Studio Inc. is proudly announcing their latest iPhone game title "Drift Mania Championship" which has been developed in collaboration with the official Drift Mania Canadian Championship league (DMCC).
This exciting video game will be available worldwide in mid July 2010 for the iPhone and iPod Touch. The game is rated 4+ (for everyone) and can be purchased on the Apple App Store.
Already entering its 5th season, DMCC is the only professional drifting series and sanctioning body in Canada developing over 600 drivers, hosting 10 competitions from Vancouver to Quebec and capturing hundreds of thousands of fans every year.
Like real drifting, the Drift Mania Championship video game is a combination of driving skills, style and showmanship. It's all about loss of the rear wheel traction while keeping the race car in total control.
"It was very exciting to collaborate with Ratrod Studio on this project. We have been able to develop this adrenalin-packed drift game that everyone has been waiting for!" says Eric Belec (DMCC, President).
Drift Mania Championship includes a global online leader board which keeps track of everyone's best scores and season point totals. Challenge your friends by submitting your high scores for each circuit and expose your achievements to the world. Play often to increase your overall career score and become the next Drift Mania world champion. The top 100 positions for each category are displayed on the official Drift Mania website (Leader boards).
The game features stunning 3D graphics with realistic drift controls including a variable throttle system and hydraulic handbrake. Users will be able to select between 5 vehicles, each with their own performance specs and the ability to personalize their car. The game includes 3 different circuits to master and 3 levels of difficulties. So whether you are a casual or advanced gamer, you will be able to enjoy hours of challenging game play to suit your skill set.
Drifting is a very unique Motorsport where points are allocated on 4 main criteria: speed, line, angle and impact. Players will need to qualify on the podium to unlock different circuits and cars.
They will also be able to choose between 3 different camera views and watch their performance highlights using a replay system that shows off their best combos. The game soundtrack features bands from the Good Fight Music label including "I Am Abomination" and "Conditions" latest albums. Users also have the ability to listen to their own songs from their personalized music library.
Drifting is popular because it brings all the best elements of motor sports into one package. Highly skilled drivers control a high powered street car past its limit; sideways at high speed, burning rubber. It can't get any better.
Drift Mania Championship has been developed by Ratrod Studio Inc. and will be available on the App Store by mid July 2010. More details about the game can be found on the official Drift Mania Championship website.
Ratrod Studio also announced an upcoming update for their popular iPhone game "Mike V: Do or Die – Skateboarding" that was nominated at the "2010 IMGA Awards" and a free "Do or Die Lite" version which will also be available mid July 2010. The team is currently focusing on mobile platforms for iPhone and Android with several projects in development. Information on Ratrod Studio Inc.'s upcoming line of titles will be announced shortly.
About Drift Mania Championship (Video Game)
Visit the official Drift Mania Championship video game website which includes: news about the game, updates, leader boards, instructions, support, exclusive contents such as videos, wallpapers and a lot more.
(Website: http://www.drift-mania.com/ )
About DMCC
Drift Mania's mission is to promote drifting to people who are passionate about racing, extreme sports and modified cars, but also to a larger demographic. In the safest of environments, Drift Mania aims to provide the fans with an amazing experience showcasing the best drifters fighting for the title of Drift Mania Champion. The popularity of the sport is experiencing growth like no other sport in the world.
(Website: http://www.dmccdrift.com/ )
About Ratrod Studio Inc.
Ratrod Studio Inc. develops video games for mobile devices including iPhone, Android, handheld devices, game consoles and personal computers. They are experienced game industry experts and licensed developers. Ratrod Studio Inc. is headquartered in Aylmer, Quebec.
(Website: http://www.ratrodstudio.com/ )
###