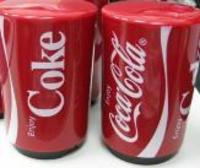 "We're thrilled about this product release"
Seattle, WA (PRWEB) July 21, 2010
When approached to manufacture and sell their innovative bottle openers branded with the Coca-Cola logo, WhyNotBe.com executives were enthusiastic, saying "Of course we're thrilled about this product release and the opportunity to work with the one of the great product marketing companies in the world. We hope that collectors love them, and that it's a chance to prove our mettle and continue to work with Coca Cola and other Fortune 100 companies."
The new Coca-Cola openers are highly unusual in their design, and intended for use on any beverage with a metal "crimp-cap" like those on an old fashioned Coke bottle. When the opener is pushed straight down, an arrangement of levers and springs removes the cap with a notable "pop" and leave it hanging from a small magnet for easy disposal. It is equally effective on the pry-off or twist-off crown caps. Other companies have also had their message custom printed on them, but none as large as Coca-Cola.
After careful consideration, WhyNotBe.com, which has been manufacturing these unusual bottle openers for over 8 years, chose to partner with another U.S. company that held Coca-Cola licensing rights to create the Coca Cola bottle openers. As is typical of such arrangements, this meant WhyNotBe.com had to meet Coca-Cola's very stringent specifications for manufacturing.
WhyNotBe.com company executives noted, "We were impressed by Coca-Cola's social conscience in terms of the quality of manufacturing they insisted on, such as using an absolute minimum of harmful chemicals, a no-tolerance policy on child labor and that sort of thing. We felt they were beyond reproach in social conscience and as a business partner."
"There is often a perception that huge corporations sometimes succeed by bullying smaller companies, but that has profoundly not been the case in our experience with Coke. We're glad they've required the same high standards we prefer. In the end, it's just good business to work together to maintain high standards, especially when pairing a unique product with a truly iconic brand. We couldn't be happier with the product, and are looking forward to seeing how the marketplace responds to the immediate release of this product."
A small number of the Coca-Cola bottle openers had been released to a few test customers this past spring. With those tests completed and customer satisfaction at the hoped-for high level, the openers are now ready for release through wholesale and retail channels, including http://www.WhyNotBe.com.
For additional information on news that is the subject of this release or product demo, contact info(at)whynotbe(dot)com or visit http://www.WhyNotBe.com.
About WhyNotBe.com:
http://WhyNotBe.com is a wholly owned subsidiary of Anzen Markets LLC, a manufacturer of household and advertising specialty products based in Seattle, WA.
Contact:
info(at)whynotbe(dot)com
Anzen Markets LLC
http://www.WhyNotBe.com
# # #