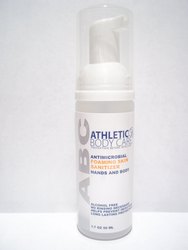 "Our customers love the foaming aspect of our sanitizer for a couple reasons - it's very effective and helps leave the skin hydrated"
Beverly Hills, CA (PRWEB) July 8, 2010
A unique aspect of the Athletic Body Care Foaming Skin Sanitizer Travel Size is its miniature pump to create the same foaming action its bigger brother.
"Our customers love the foaming aspect of our sanitizer for a couple reasons - it's very effective and helps leave the skin hydrated," commented Adam Page, Athletic Body Care founder and president. "We are happy to be able to deliver the foam to our customers, in our Travel Size."
The Foaming Skin Sanitizer Travel Size is also eco-friendly, as its formula uses half the water as other same-sized skin sanitizers, and its bottle is recyclable.
Additionally, the Travel Size provides approximately 150 applications -- at least twice as many as the others.
Priced at $4.99 the 1.7oz fluid ounce bottle meets airport security standards and comes with a large protective cap to prevent leakage when packed.
The Foaming Skin Sanitizer is in demand amongst athletes, as it is known to be one of the best preventions against MRSA, staph, ringworm and numerous other infections and viruses that lurk in locker rooms and get transferred on towels. It provides long lasting germ-killing action, whereas most sanitizers last only seconds.
The Foaming Skin Sanitizer and other Athletic Body Care products are being used by sports teams such as the New York Giants, Green Bay Packers, Los Angeles Clippers and Cal State Fullerton Titans. Numerous combat sports stars such as Marcus Kowal of Krav Maga Worldwide and Jeff Glover of Paragon JiuJitsu have embraced Athletic Body Care as their line of choice.
Athletic Body Care is the official body care supplier of the USA Judo Olympic Team, California Wrestling, U.S. Grappling, and the Gracie Jiu-Jitsu Academy, and many other sports organizations.
The entire line is available for purchase at http://www.athleticbodycare.com. Selected products are carried at specialty stores across the country.
###