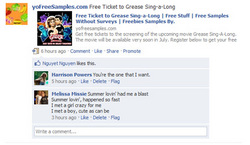 yoFreeSamples.com's excellent customer service differentiates itself from the rest of the free stuff sites.
Syracuse, NY (PRWEB) July 2, 2010
Popular free stuff site yoFreeSamples.com continues to grow and offer more features. Recently added features were a free contest, sweepstakes section so consumers can race to join contests to win big prizes. There are now over 2,200 freebies added to the website as of July 1st 2010. There are plans to add white label free coupon solutions as well so consumers can access local printable coupons or national coupons like Gemvara coupons.
With the current recession free samples from Walmart, Target and global brands are gaining market share by offering free samples to consumers who don't have the money to try new brands. Walmart, Target and other big brands are devoted to listing free samples in sections of their website because of the positive feedback from consumers. There are many websites offering free product samples however yoFreeSamples.com is the only one where people sing-a-long for free product samples on their Facebook fan page as seen in this shocking image. yoFreeSamples.com's excellent customer service differentiates itself from the rest of the free stuff sites. There are few free sample sites where fans sign-a-long with the deals.
It seems if everyone wins along the value chain when free samples are involved. This is why yoFreeSamples.com is transitioning to become a deal platform within the next few months. While consumers are becoming more and more open to deals it could be a long term behavioral change according to experts. The more free coupons, free stuff and deals being offered the more consumers and businesses will win. Experts also believe men are becoming more likely to redeem coupons because of the easily accessible coupon codes and deals via the mobile phone.
Not only coupons are becoming popular on mobile phones but yoFreeSamples.com notices a trend in more mobile free samples where one has to text an SMS message to a number to receive free samples. These new technologies make it easy for consumers to get free stuff with out much effort. All these new features added to yoFreeSamples.com recently are leading up to the release of their much desired platform where businesses and consumers can easily connect to exchange deals in the coming months.
###