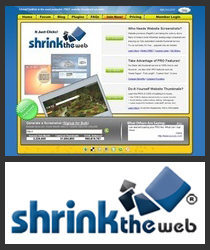 With my type of website, the user experience is paramount - hence the use of STW. This was easy to setup and provides excellent user feedback and an improved user feel.
Kennesaw, GA (PRWEB) July 1, 2010
Social media sites, web directories, reputation services, and even search engines, like Ask.com, are embracing this new technology and impressing their users. They are seeing big increases in click through, decreases in bounce rates and longer times spent on site as they engage their users more visually. But major companies are not the only ones realizing the benefits. The growing demand for website screenshots has prompted developers to write plugins and modules that make it extremely easy for anyone to add to their site. Additionally, developers are imagining and creating new ways to enhance the user experience by integrating website screenshots directly into site templates, browser toolbars, and standalone applications.
There are currently several website screenshot providers to choose from, but only one has the reputation for reliability and speed. In just two years the ShrinkTheWeb PagePix service has taken over this market by providing higher quality screenshots that are more frequently refreshed and available in more default sizes than anyone else. PagePix are never watermarked and always fast. Plus, ShrinkTheWeb users rave about the top notch uptime, customer service and support.
In celebration of it's 2nd birthday, ShrinkTheWeb has rolled out a number of major site enhancements that improve the user experience and further distance themselves from the competition.
Here is a short list of some of the more notable improvements:

"Screenshot Code Wizard" easily generates embedded code for users
clear and concise documentation with step-by-step instructions
powerful history/domain search, making it a snap to manage screenshot requests
Experience the impact website screenshots can have on your Internet business by trying out ShrinkTheWeb's PagePix service; free to all.
A screenshot is worth a thousand links and ShrinkTheWeb is the leading provider of website screenshots. ShrinkTheWeb's PagePix service enables web developers, designers, and programmers to incorporate previews of websites in their projects and applications. As the trend of using website screenshots becomes more of a necessity and fundamental need, ShrinkTheWeb continues to rise to the challenge of providing full automation to a massive and expanding global audience.
###