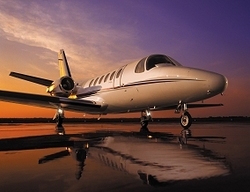 "I would rather have a satisfied prospect, than an unhappy client..." - Dan Jennings, CEO of TPJC.
(PRWEB) July 14, 2010
The Private Jet Company (TPJC) announced today the immediate launch of their new comprehensive, expert consultative assistance for buyers and sellers of Private Jets Worldwide. The experts at The Private Jet Company monitor the worldwide markets on a daily basis to know all the details of all on market and off market available aircraft, maintenance history, ownership history, asking prices and all other relevant aircraft details. The TPJC experts are ready to negotiate on behalf of buyers or sellers and have ongoing solid business relationships with expert legal council, inspectors, bankers, tax experts and other parties to enable prompt completion of successful buy-sell transactions with the highest level of mutual satisfaction by both sellers and buyers.
The Private Jet Company has been founded by Daniel Jennings with 20+ years of expertise in financial transactions related to Private Jets and on Wall Street. After having completed many successful sales transactions with a very high level of satisfaction for both the seller and buyer, Mr. Jennings realized that while its easy to locate an aircraft for sale somewhere around the Globe, its much more difficult to analyze precisely how the characteristics of a given aircraft meets the client requirements, due to the many factors involved, such as age, maintenance history and forecast, interior configuration and condition, ownership history, damage history and other variations.
TPJC has designed a unique proprietary consultative process and just has launched their new website at: http://www.ThePrivateJetCompany.com (TPJC) to offer the service worldwide for both buyers and sellers of private jets.
All the experts at TPJC are focused on close interaction with buyers and sellers of private jets to identify precisely their budget, requirements and preferences. Only after fully understanding the client needs, will the experts start searching the world aviation marketplace for suitable aircraft that meet our stringent requirements of ownership pedigree and asking price.
Sellers naturally wish to obtain the best prices for their aircraft and that is primarily determined by the demand for that particular aircraft model, the total number of similar units offered for sale on the marketplace, their conditions and recent transactions. TPJC uses its network of owners and brokers worldwide to locate and negotiate for the best aircraft at the most favorable pricing for our clients. TPJC utilizes all data points including the seller's financial condition and reasons for selling to our buyer's advantage in negotiations.
The team at The Private Jet Company are industry experts who view their roles as information agents and consultants, as opposed to salesman. They would rather assist our sellers and buyers to become fully informed partners in a potential transaction, than make a quick sale where either party is dissatisfied with the end-result. Mr. Jennings and his staff prefer to advise a client not to purchase an particular private jet than see a client close on a unsuitable aircraft that does not meet their needs or is overpriced.
For full detailed information about selling or buying a Private Jet aircraft anywhere Worldwide, please contact Daniel Jennings at The Private Jet Company, (561) 247-JET1 (5381) or visit the website at: http://www.ThePrivateJetCompany.com
###