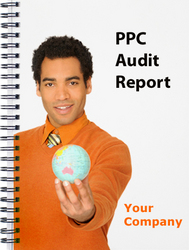 The key benefit will be greatly improved ppc results. The free audit will provide positive recommendations on how to reduce click costs, improve CTR, increase conversions, and boost ROI.
(PRWEB) July 6, 2010
PPC company, Cluedup PPC, is offering UK businesses a free professional audit of their current ppc advertising. The normal charge is £495.
The ppc audit will show managers why their ppc campaign may not be successful and then how to fix it to make it so.
The main benefit of the audit the mangers, according to Tom Wilson of CluedUp PPC, will be, "greatly improved ppc results.
"The free Audit will provide positive recommendations on how to reduce click costs, improve CTR, increase conversions, and boost ROI.
"And it won't cost a penny to get this highly valuable information."
The offer is for a limited time only. It's available to any size of pay per click account regardless of ad spend and no matter the purpose of the paid search. For example, to get sign-ups, leads, page views, or e-commerce.
The company is offering the PPC Audit to businesses who believe that they should be getting much better results from their paid search and who feel they could benefit from some professional help and guidance to achieve this.
In particular, it's aimed at those managing their pay per click advertising in-house. Or those that are currently using a ppc management company but are unsure of the results and they would benefit from a second opinion.
The audit, a comprehensive review conducted by a Google AdWords expert, covers the pay per click spectrum. This ranges from account set up to ongoing optimisation. Amongst a list of items, it deals with the likes of ppc strategy, targeting, keyword management, ads, bid control, reporting, and landing page optimisation.
CluedUp PPC promises that it can complete the Audit within a week.
However, the company has stated that it does not accept every application. Each client must have sufficient data in its account. And it must be clear that a ppc audit would be both suitable and of value to the client.
CluedUp PPC hopes that by offering the free audit they will attract new clients through referrals. Tom Wilson said, "There's no obligation. The audit comes with absolutely no strings. But we believe that businesses will be so impressed with the quality of the audit that they will at least recommend our services to others."
In addition to the audit, the company offers the full range of search marketing and ppc services. These include ppc management, AdWords training packages, campaign set up, "ppc and go", professional mentoring, and "pay by results" search engine optimisation (SEO).
To get more details and to apply for the free Audit visit http://www.cluedup-ppc.co.uk/Services/PPC-Campaign-Audit/
# # #