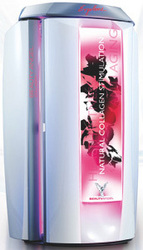 ...everyone who tried it for the first time was blown away because the Vibration Platform felt so much like a real workout. But much more fun!
Atlanta, GA (PRWEB) July 14, 2010
The Beauty Angel is not a tanning booth. In fact, it has absolutely no UV Light.
So what is this shiny new booth? Manufactured by JK Ergoline out of Germany, the Beauty Angel represents a new technologically advanced and affordable approach to beauty, health and fitness - all without needles, surgery, or down time. And Atlanta residents are about to experience it at Solar Dimensions and Solarium Tanning Spas first hand.
The non-invasive technology behind the Beauty Angel is designed to enhance one's overall physique and image by reducing the appearance of fine lines, wrinkles, pigmentation issues, and cellulite while also providing a fitness benefit to the client.
The Beauty Angel uses visible red light wavelengths in the 633 nanometer range to activate the skin cells (fibroblasts) to produce collagen and elastin at an accerated rate. This results in a reduction of wrinkles, fine lines around the eyes, smaller pore size, tighter skin and an improvement in the skin's general appearance. The skin's permeability also increases, improving the effect of skin care products by allowing active ingredients to penetrate deeper.
Red light therapy is a safe, non-invasive, and proven method to gently reverse and reduce the signs of aging without any side effects, downtime, or controlled skin damage (like microdermabrasion or chemical peels). In fact, many spas, clinics and dermatology practices use red light therapy for their patients to speed up the skin's healing process after more invasive rejuvenation modalities.
The Beauty Angel's other 'secret ingredient' is the Platform Body Vibration with four specific user adjusted programs. Whole Body Vibration (WBV) was first explored by Russian scientist Vladimir Nazarov, who tested vibration on cosmonauts in an effort to decrease the loss of muscle and bone mass in space. Vibration training became popular in the fitness industry, but it is now being widely used in physical therapy, rehabilitation, professional sports, as well as for beauty and wellness applications. The increased circulation from the Platform Body Vibration together with the full body red light therapy creates an exponential effect on the rejuvenation qualities of the Beauty Angel.
"During the testing of these machines at the Las Vegas trade show, everyone who tried it for the first time was blown away because the Vibration Platform felt so much like a real workout. But much more fun!", says Alex Royter of Solar Dimensions. "It literally stole the show and it was quite entertaining watching the reactions... even from the real 'fit' crowd!"
PLATFORM BODY VIBRATION - FEATURES & BENEFITS:
Reduces the appearance of cellulite
Stimulates circulation
Tightens connective tissue
Relieves muscle tension
Enhances feeling of well-being
Improves flexibility
Simple, enjoyable, low-impact motion that's ideal for any age
Four Individual programs geared toward individual goals and fitness levels
PHOTO REJUVENATION THERAPY - FEATURES & BENEFITS:
Visibly reduces the appearance of fine lines and wrinkles
Improves uneven skin appearance
Reduces the effects of damaging environmental influences
Reduces pore size for a noticeably tighter skin tone
Restores a youthful glow
Increases Serotonin levels so you walk out feeling great
Designed for the entire body; not just the face like most machines
The suggested usage is 3 times a week for the first 12 weeks followed by once a week thereafter for maintenance. And with sessions lasting just 12 minutes, it makes each visit just a short 'pit-stop' for turning back the clock of aging! "Clients have started referring to this as the "Youth Booth" or "Reverse Time Machine" which is basically what these booths do", states Dustin Freeland of the Midtown and Buckhead locations. "But it's also important to understand that this isn't laser or surgery, so results are visible over 30-90 days and will vary based on skin type, genetic predisposition, and lifestyle".
BEAUTY ANGEL: QUESTIONS & ANSWERS
The delivery of Beauty Angels at Solar Dimensions and Solarium locations will begin the last week of July and will continue over the next 60-90 days. Visit the Solar Dimensions Corporate Website for the latest updates.
Meanwhile, Solar Dimensions is offering a pre-delivery special that will let you get 2 months free when you purchase 1 month. This translates to 90 days of unlimited use of the Beauty Angel for only $99, a savings of almost $200. Solar Dimensions has provided an Order Form that you can email or fax in without leaving your home or office.
###