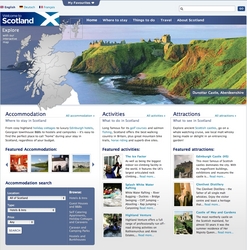 We are really impressed with the results of Mackerel Media's search engine optimisation work. This will help us greatly in our efforts to drive more business to accommodation providers across Scotland.
(PRWEB) July 29, 2010
The site focuses on accommodation in Scotland and provides information on more than 12,000 guest houses, hotels, holiday cottages, caravan parks, campsites and hostels the length and breadth of the country. A huge rise in unique visitors is anticipated for the peak summer months of July and August compared to 2009 as - thanks to the search engine optimisation work - more and more holidaymakers and tourists make use of its unrivalled information resource to plan their travels around Scotland.
Mackerel Media leaned heavily on the vast amount of accommodation information contained in the site to develop a strategy that combined content optimisation with technical enhancements to greatly increase the search engine friendliness of the site and improve the level of indexation. This work ran alongside a strategic link-building exercise aimed at improving ranking across the board and increasing referred traffic from other relevant sites around the globe.
Uniquely, WelcometoScotland.com is fully translated into French and German, the versions of which can be found at http://www.bienvenueenecosse.com and http://www.willkommeninschottland.com respectively. Whilst search engine optimisation work has yet to start on these two sites, their traffic has also increased significantly year-on-year.
David Hayes, Managing Director of Landmark Press, the firm that operates WelcometoScotland.com says "We are really impressed with the results of Mackerel Media's search engine optimisation work. This will help us greatly in our efforts to drive more business to accommodation providers across Scotland."
Alan Bird, Project Director comments "We particularly liked Mackerel Media's personal approach to SEO, which really got to grips with our particular sector formulating a tailored plan not a one solution fits all. We've worked closely making the best use of each others skills. This has really helped us take on the competition in this highly competitive sector".
Nick Craig, founder and Managing Director of Mackerel Media "From the outset of the project it was clear to us that although WelcometoScotland.com has more information on accommodation in Scotland than anyone else, not forgetting the huge amount of information on attractions, activities, events and restaurants, its content simply wasn't being exposed to search engines in the way that it should be.
Our job was to turn this around by guiding a wide range of technical changes, whilst at the same time working to optimise the whole of the site as effectively as possible in what is a very competitive market indeed. Additionally, we worked hard to deepen the site and present much more tailored national, regional and local content to search engines and users looking for accommodation and things to do in specific areas of the country.
Needless to say, we're extremely pleased to see the progress the site has made and even more pleased to know that tens of thousands more tourists are able to plan and enjoy their trips to Scotland thanks in part to our work. We look forward to seeing the site's traffic grow even more in the coming months."
Notes to Editors:
WelcometoScotland.com is owned and operated by Visitor Centres Limited, a company with over 40 years' experience in the Scottish tourism industry. The company operates three major tourist attractions: Landmark Park, Camera Obscura and Inveraray Jail.
The publishing division, Landmark Press, is Scotland's major publisher and distributor of visitor information folders, guides and leaflets. Each year the firm supplies its 'Welcome' bedroom folders to almost all of Scotland's hotels, guest houses and B&Bs; self catering properties and hostels. Landmark Press also publishes and distributes 2.5 million copies of the 'Welcome to Edinburgh' and 'Welcome to Scotland' guides in 6 different languages in addition to a print distribution service covering the whole of Scotland.
Mackerel Media Limited was founded in 2008 by Nick Craig and specialises in search engine optimisation, pay-per-click advertising and digital marketing consultancy. The company's clients include WelcometoScotland.com, Glengoyne Single Malt Whisky, WildDay.com and other organisations in ecommerce, tourism and financial services, in addition to several proprietary media platforms.
###