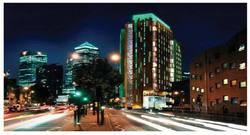 IPIN is pleased to be applying SES to such an exciting project. IHG (Intercontinental Hotels Group) who own the Holiday Inn brand, are the largest provider of hotel beds in the world. IHG's involvement combined with a London location that is close to both
Easley, SC (PRWEB) July 22, 2010
The International Property Investment Network (IPIN) announces the launch of a new Secure Exit Strategy (SES) application this month, a 252 bed Holiday Inn hotel located in the London Docklands area. This new application allows IPIN members to achieve a 25% annualised return on investment from London Property with 100% of their capital protected.
Using a combination of traditional investment tools, IPIN has been able to change the face of the investment property business for members in the current economic climate. Deposits are insured protecting initial capital, and profits are backed by contractual corporate guarantees. Additionally, all transaction processing is undertaken by regulated UK law firms to protect IPIN investors. With SES property investors can avoid risks usually associated with traditional real estate investment.
Having undertaken thorough research and due diligence IPIN have identified London as an ideal location for SES investment. The hotel is projected to complete prior to the 2012 London Olympic Games and is located within a designated 'host' area. This will surely boost the already high occupancy rates achieved by hotels in this area.
IPIN Managing Partner, Danny Bance said: "IPIN is pleased to be applying SES to such an exciting project. IHG (Intercontinental Hotels Group) who own the Holiday Inn brand, are the largest provider of hotel beds in the world. IHG's involvement combined with a London location that is close to both the financial district and leisure venues, like the O2 and new Olympic Park combined with our unique SES terms make this a fantastic investment opportunity for IPIN members."
IPIN work with investors from all backgrounds and source and create intelligent and viable opportunities that comprises a variety of traditional, unique and innovative property investment vehicles.
IPIN'S 50,000+ members benefit by being able to invest in confidence whilst achieving great returns across a range of carefully chosen and researched investment options.
Click here to find out more about IPIN membership or SES
Contact Information:
Europe
Global Prospects SL
Calle Santa Barbara1
Edif. River Playa Local 2
Fuengirola (Malaga)
29640
Spain
North America
Tower 101
101 North East Third Ave.
Suite 1830
Fort Lauderdale
FL 33301
Web http://www.ipinglobal.com
email: info(at)ipinglobal(dot)com
US Toll free: 0-866 465 3447
UK Freephone: 0800 047 0597
International: (+34) 952 198 657
###