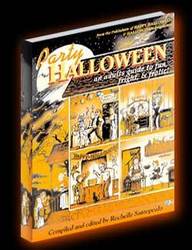 "What we're finding is that more adults are now asking for direction when it comes to planning a Halloween party."
Los Angeles, CA (PRWEB) July 13, 2010
Halloween may be far from most people's minds, but the 100 day countdown is fast approaching. Halloween Alliance.com announced today that its ebook "Party Halloween" will be free for download this summer. It is both available at its website and at Partyhalloween.com. The ebook will be free from July 13th, 2010 to August 31, 2010.
The ebook outlines sassy, adult-style Halloween fun, and details everything from costumes, invitations, decorations, party food and games. Visitors who download it will also receive a bonus "Horror Hotel Dining Menu" as well as a separate guide on building gory displays for your party.
Halloweenalliance.com owner Chris Molnar is amazed at the resilience of Halloween, even when money is tight. Despite predictions of sagging sales in 2009, Halloween spending actually increased 4.2%, according to IBISWorld, a market-research firm. It topped $6 billion dollars as customers snapped up not only costumes, but fog machines, lights and Halloween decorations for their house and party.
"Halloween is the second biggest consumer holiday of the year in the U.S., behind only Christmas," says Chris. "It's growing even now, simply because adults, weary with the economy and doom and gloom scenarios, can escape everything for one night by dressing up, having fun at a party and laughing at all their troubles."
This includes everything from dress-up with a small group of friends to an all-out Halloween bash, complete with decorations, yard décor, costume contests, classic music and creative party food.
"Halloween is easy to do when it comes to kids," Chris points out. "They want candy and a cool costume. What we're finding is that more adults are asking for direction when it comes to planning a Halloween party. Since our inception in 1999, emails have rotated from primarily child-oriented to a huge percentage of adults asking how to have their own creative fun."
As a result, sites like HalloweenAlliance.com and Partyhalloween.com are offering bigger and better choices, and in tune with consumer spending, they're keeping prices low on for-purchase items, according to company executives. At the same time, the ebook Party Halloween directs Halloween enthusiasts on how to create their own decorations and costumes as an option to keep things economical.
But none of the sassiness and flair is lost in the translation, executives say.
"The ebook has sold well for many years," Chris says. "It includes timeless party planning techniques, decorations on a shoestring budget, pumpkin and graveyard displays, costumes, invitations and ghoulish recipes. The book is for any adult who wants to host a grown-up Halloween party and needs to brainstorm easy, economical and fun ideas."
To receive the ebook for free, interested individuals simply sign up with their name and email address, then follow the instructions they receive in the newsletter in order to obtain the eBook. The book is free to August 31 so guests have time to plan the festivities in plenty of time for the big day.
"We're re'vamp'ing Halloween, one partygoer at a time," Molnar says. "Our customers expressed a need and we're filling it. Halloween is the perfect time to cut loose, without breaking your budget. But you need to know how to plan. Our sites have combined for this special promotion to show people how to do just that."
HalloweenAlliance.com, online since 1999, originally republished articles from it's magazine. It has since grown into a portal for home haunters, from its famous "Ten Minute Tombstone" tutorial to articles on constructing floating heads, creating sound effects and professional lighting techniques.
PartyHalloween.com offers the ebook "Party Halloween, An Adult's Guide to Fun, Fright & Frolic for Halloween Parties" It can be downloaded free until August 31, 2010.
###