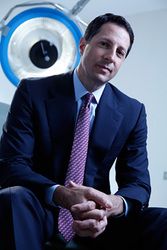 Dr. Nini is one of the select surgeons who received 'near perfect scores as voted by patients'
New York, NY (PRWEB) July 14, 2010
Dr. Kevin Nini, one of New Jersey's leading plastic surgeons, has been awarded a 2009 Patients' Choice Award for top patient ratings nationwide. A board-certified plastic surgeon at the prestigious Plastic Surgery Arts of New Jersey, Dr. Nini has been serving patients in cosmetic surgery for over 17 years.
Plastic Surgery Arts of New Jersey would like to congratulate Dr. Nini for receiving his second consecutive Patients' Choice Award.
Doctors are awarded a Patient's Choice Award when they receive outstanding ratings from patients on a variety of criteria. With over 60,000 doctor reviews posted online each month throughout 2009, less than 6 percent of doctors received top reviews from their patients in all categories.
Dr. Nini is one of the select surgeons who received "near perfect scores as voted by patients" for professionalism, accuracy in diagnosis, doctor-patient face time, courteous staff and follow-up care. Patients travel to New Jersey from all over the country to receive aesthetic plastic surgery including breast enhancements, breast implants, breast reductions, liposuction, mommy makeovers and face-lifts.
"I am very happy you were recommended to me. I don't think I have ever met a doctor who was as understanding and patient as you. You made me feel that you were truly concerned and that showed in the results I am now seeing. You have given me something to feel positive about!" - Linda S.
Listed as a "Best Doctor" by many publications including New York Magazine, Family Circle and others, Dr. Nini is considered one of New Jersey's best plastic surgeons. Patients visiting the New Brunswick and Princeton, N.J., offices receive exceptional follow-up care in a warm, friendly environment. Both of these dimensions received top online reviews from patients, with a 4.0 out of 4.0 rating.
"This award is very meaningful to me because it comes directly from my patients. I can't thank them enough for this honor, and I look forward to continuing excellent patient care in the future," said Dr. Nini.
Dr. Nini is board-certified by the American Board of Surgery and the American Board of Plastic Surgery. An active member of New Jersey's plastic surgery community, he is also a member of the American Society for Aesthetic Plastic Surgery.
About Dr. Kevin Nini:
Recognized as a foremost expert in plastic surgery, Kevin T. Nini, M.D., is renowned for his artistry and use of the most advanced surgical techniques. Dr. Kevin Nini is one of New Jersey's top cosmetic surgeons specializing in the face, breast and body. Patients come to his New Jersey office to receive tummy tucks, nose jobs, breast lifts, breast reconstruction, face-lifts and body contouring. Dr. Nini practices cosmetic surgery in New Brunswick and Princeton, N.J. For more information about Dr. Kevin Nini, please visit http://www.psanj.com/about_nini.php.
About Plastic Surgery Arts of New Jersey:
With over 35 years combined practice experience, the extraordinary plastic surgeons of PSANJ are renowned for providing a caring, individualized and successful cosmetic surgery experience. Kevin T. Nini, M.D.; Philip D. Wey, M.D.; and Robert M. Olson, M.D., are nationally recognized for exceptional results in a variety of procedures, including breast enhancement, liposuction, tummy tucks, face-lifts, nose jobs, lip injections, male plastic surgery, microdermabrasion, BOTOX®, Juvederm®, and many other surgical and nonsurgical options. With locations in New Brunswick and Princeton, N.J., PSANJ is easily accessible from surrounding areas. Whether you live in Edison or East Brunswick or in neighboring communities in New York, Pennsylvania, Connecticut or Staten Island, imagine yourself at PSANJ. For more information about PSANJ, please visit http://www.psanj.com.
###